As you might have realized from past posts here, I enjoy computer gaming. I just recently came across a new game called "The Village" that is being created to simulate a third-world village. Your goal is to use your entrepreneurial spirit to raise this village out of poverty.
It's a "multiplayer online real-time strategy game that immerses the player into the role of an entrepreneur building companies to bring prosperity to the villages of the third world."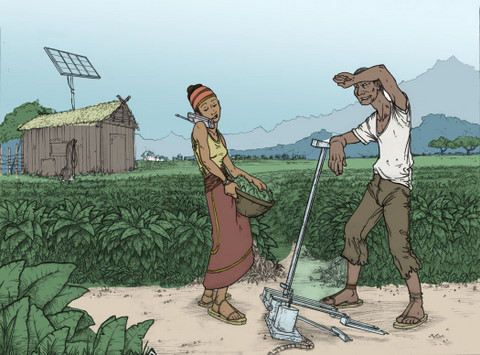 At first glance you might find this concept superfluous. After all, what practical use can gamers in the West have on the real problems in places like Africa? Let me try and explain why I think it could be useful…
It's not just about playing a game – it's about attention, ideas, and change through collaboration.
Attention
Getting the attention of people in the West in this time of overwhelming media blitzes is difficult. People are interested however, and creating one more avenue for people to find out about the situation in places like Africa is a good thing. Gaming opens up the world to a whole new demographic, and a game like the Village provides a non-overt educational component.
Ideas
Assuming the Village is an open enough game, there could be some very creative business, engineering and technological ideas that come out of it. If done right, the game could become a platform to test and prove out ideas before doing a pilot project or investing in a business in real life.
Collaboration
This is where the idea behind the Village truly comes into its best light. Collaboration player-to-player and between players and real world villagers is highly intriguing. The idea of drawing a line between those in the developed world and those in the developing world is very attractive. Think micro-level investment and idea sharing.
If the Village is developed to be fun, open and has the right type of interaction levels between users and people on the ground in the third world, it could be a very exciting project indeed. I particularly like the idea of it being a solution for education and for growing wealth through investment. In this case it's not investment just by large organizations, but by ordinary people (just like Kiva).
If you are interested in helping, find out how you can here.
(hat tip GlobaLab)