[Brief rugby intermission]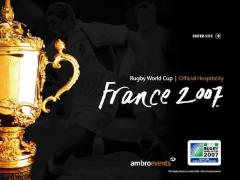 I had a hard enough time tracking down how to make sure I got the Rugby World Cup games at home in the United States, and then a number of people asking me, so here it is. There is only one way to get it, and that's via the Setanta sports channel.
You can only get the Setanta channel in the US via satellite. Your choices are DirectTV or Dish Network. Once you order the service you'll have to add an extra $15/month for the Setanta channel.
DirectTV tends to be about $5 less each month, but Dish Network has a bigger dish and gets less interruption (so I read somewhere). I ended up going with Dish Network, with Setanta sports, and I ordered a DVR for an additional $5 in order to record the games that I couldn't watch live. All told, the package runs about $50/month, which is about what cable TV costs here – so it's comparable.
One last item. If you want to do a month-to-month contract instead of an 18 month one, you'll need to go through DirectTV or Dish Network, not their local dealers. So just give them a call via their website.
Hope that helps someone.