I found the following map showing satellite coverage of Africa in the Acacia Atlas -2005, part of the International Research Development Center (IDRC). It has a wealth of information on connectivity – satellite, internet and mobile data that many readers will find very interesting.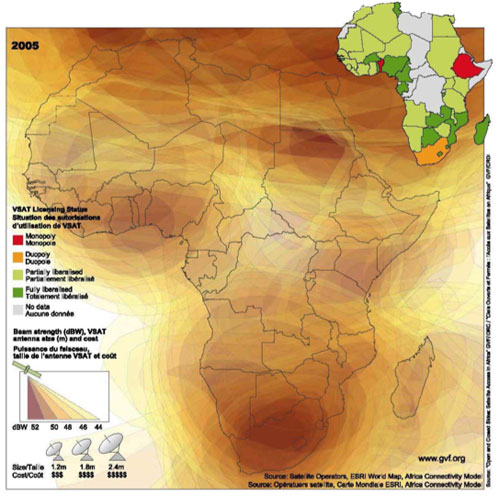 36 Ku-band satellite coverage of Africa (2003)
This represents true communication coverage at a fraction of the cost that land lines, especially when you get to the interior regions of Africa that tend to be more remote. The Acacia Atlas is making the case for more access by the private sector into the market.
"Every square inch of Africa is covered by satellite bandwidth, but restrictive telecom policies stop this from supporting Africa's development. There are 48 satellites with coverage… over Africa which can be accessed to provide international and national voice calls, broadcasting, data and internet services."
We've seen a little opening up of the communications infrastructure since 2005, but it needs to continue at an even faster pace. There is no excuse for Africans holding Africa back from growth.
[PDF download – 10Mb]