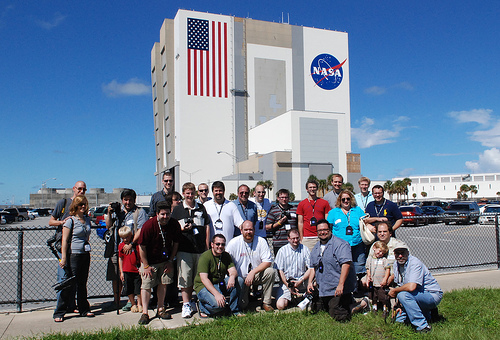 I just got back from a fun day spent at Kennedy Space Center with a bunch of bloggers and tech guys coming into Orlando to take part in BlogOrlando (tomorrow). Last Sunday was BarCamp Orlando, an unconference for techies in the area. While in South Africa I took part in a Johannesburg 27 Dinner, a monthly event for creatives and developers. In Nairobi, Kenya I was able to sit in on the weekly Skunkworks meeting where like minded developers get together to share ideas.
These are all wonderful events that provide a reason for the local community of developers, creatives and bloggers to get together and meet each other face-to-face. You might live in the same town for years and not realize some of the amazing people living right near you.
What's the common thread here?
There is ALWAYS a consummate networker that takes the time to foster relationships. There is ALWAYS a person who steps up and champions the local community into getting together.

In Orlando you find guys like Josh Hallett creating excellent events like BlogOrlando out of his own time and imagination, Gregg Pollack stepping up to drive super successful events like last week's BarCamp Orlando, and Ryan Price fostering the Florida Creatives.
In Africa you have Mike Stopforth and Dave Duarte bringing the bloggers, technologists and designers together monthly in different cities around South Africa for their 27 Dinner. In Kenya there is Riyaz Bachani and Josiah Mugambi creating a local Skunkworks group and organizing BarCamp Kenya.
Being Part of a Community
Everyone in the areas that these community catalysts touch should thank them for all the work they do. They should also make sure that they too stand up and be a part of that community. It's not good enough to stay cooped up in your office or home, it's imperative that everyone get together to continue to grow both personally, professionally and as a local community.
The collaboration and relationships that grow from face-to-face interaction have a multiplying effect that tends to improve the lots of everyone who takes part. A closer tech and designer community tends to bring more credibility and business to all those who are involved.

Again, a special thanks to Mike, Dave, Riyaz, Ryan, Josh, Gregg and Josiah. They don't do it alone, but they are the catalysts that make it happen.