Conference Blogging Guide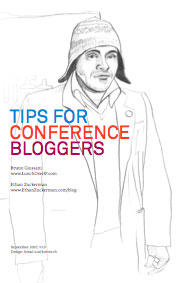 Ethan Zuckerman and Bruno Giussani have put together a nice little booklet – a guide on how to live blog a conference. It's short and informative – just the way I like it. I listen when these guys talk, last time Ethan suggested buying a laptop desk – and I did. What a difference it has made – I no longer have charred legs by the end of the day.
On Developing Apps in Africa
Riyaz is an amazingly smart guy and is also the nexus of the growing technologist network in Kenya. Here are a few of his quotes from our multiperson Skype chat where we were debating the need for startup capital when creating a new web application.
"Building web apps is cheap. Scaling needs money. But build something good – and you won't have a problem finding the money to scale."

"…it DOES take time, effort, dedication …….. but money won't give you that!!"