It's not that often that one of Africa's new web companies makes a big international splash. Synthasite has done just that, just announcing a $5 million round of financing from Swiss-based Columbus Venture Capital. That's big money no matter where you're at, and I'm interested in seeing what Synthasite does with it.
Synthasite is a free Web 2.0 Publishing Platform that allows users to construct a website without any knowledge of HTML or programming, using drag & drop along with configurable dialog windows. The Company recently launched its AJAX based platform into Beta and has attracted nearly 10,000 users so far. Synthasite also plans to open it's platform to third party developers next year, in order to allow them to create widgets, templates & other plugins for the platform.
I've been particularly impressed watching Vinny Lingham's hard work and determination to make Synthasite into something bigger – something global. When he sent me the press release, I was really happy to hear the news, because it shows that firms in Africa have the possibility of building global software/websites and can play at the same level as their counterparts around the world.
They'll be using part of this money to create a larger footprint outside of South Africa. Vinny will be opening an office in California, so will have part of his team in the US and the other still in Africa. This is a really important move actually – those who are in this space realize how hard it is to be taken seriously amongst the web intelligentsia if you're not located in their own back yard.
Giving it a Test Run
I haven't tested Synthasite since last year, so I got to work creating a simple site to test out what is possible. First off, it is SO much easier to use than the previous version. I remember how hard of a time I had on the first version – and I know what I'm doing on the web, and this new version is so much better that I think the only thing that remains the same is the name of the product.
The basic design templates look outstanding and seem to work well with the editing. Adding images and text was a breeze, as was adding more pages.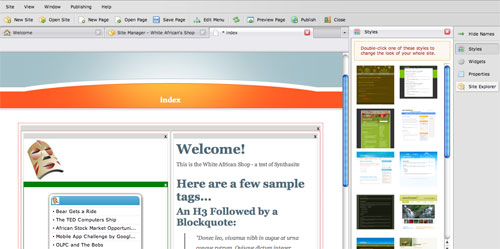 [The Website Editor – You can see what I built here]
One of my favorite features is that you can download your whole website as a zip file. Doing something like this allows you to use their editor to build your site, but you can still host it on your own server if you like. Nice addition!
There seems to be a lack of widgets, the one thing that the old Synthasite had a lot of. Before, you could build Yahoo and Amazon affiliate widgets into your site quite easily, I didn't see that option at all anymore. Hopefully they'll see some real 3rd-party development as I'd like to see a full widget library for people to use.
Summary
If you're in Africa, why should you care about Synthasite? Well, it's a free website builder offering free hosting – given the internet costs in Africa – this should appeal to many people. It's a good product, that's easy to use and will allow novices to build a good looking site easily.