I've been impressed to see the developers and bloggers from Kenya and South Africa taking the time to create gatherings where they can pass on knowledge – everyone ends up profiting from the experience. The techies in Nairobi have just concluded their 2nd BarCamp this year (the first was in March).

Brian Muita organized the whole thing, with a great setup at Strathmore and David Kiani doing an excellent job of moderating. Reports coming into me tell me that it was really well done, had good sponsorship and most of all there was great discussions. Some of the topics covered:
Wesley talking about his game, and what it took to create
Edgar talking about some engineering he does in the middle of the night – apps to analyse traffic, a sound mixer for DJs
Alex Gakuru talked about patenting and protection of ideas (a big issue in Kenya, where a lot of people think their ideas will be stolen, so don't want to share openly)
Nathan Eagle talked about HDR photography, having a local craigslist in Africa on mobile/voice platform, and Reality Mining
We had an asterisk demo by Valentine and a team from Smoothtel
Michuki and Edgar talked a bit about local content & what their thoughts on innovation were – the drivers. This broke down into a reportedly energetic debate about entrepreneurship that pitted "passion" vs "making money".
I'm sure that Daudi (Mental Acrobatics) will end up having a lot more to say – he was actually there. I've heard he will have video and better pictures too, so check his blog out. Also, I just found Wilfred Moria's blog who was there as well, check it out for a good recap.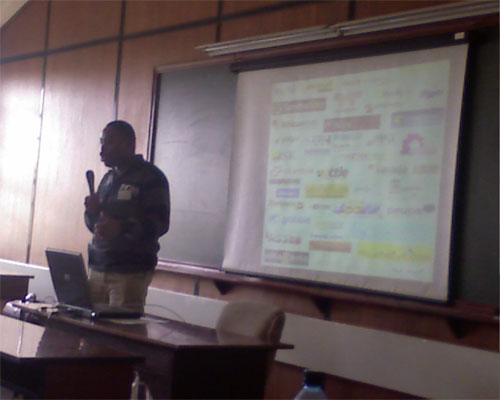 Above is an image of Mickuki, talking about local content. That image looks eerily familiar… 🙂