Peter Vlam of Africa News put me onto an interesting story regarding education and technology. Learning About Living is a new eLearning program to teach children in Nigeria about sexual health, HIV/AIDS, maternal mortality and gender violence. Young people in Lagos, Cross Rivers State and the Federal Capital Territory Abuja will be piloting the project, which is specifically designed for the OLPC, Classmate and government computer programs.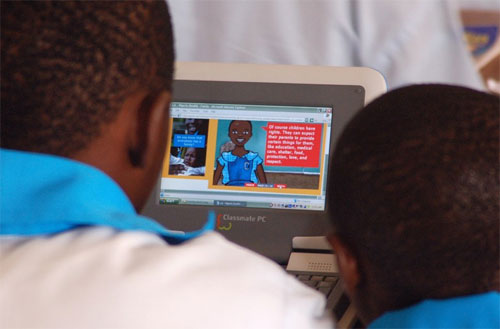 Learning about Living being tested on a Classmate
What I find the most interesting about this program is how the NGO behind it, Butterfly Works, is working to make it compatible with normal computers, the trendy new OLPC and Classmate, and also for the mobile phones. I'm curious to see how it works on a mobile phone, but it's a good sign when an organization works to make their software available on the platforms that their users actually use.
Though the program has been tested on the OLPC and, it is made for secondary school children, whereas the OLPC is aimed at primary students. They have plans to develop a primary school version just in case the Nigerian government decides to buy into the OLPC program.
Ineke Aquarius, Program Director for Butterfly Works, informs me that they are working to make the program accessible by other African countries that have bought into the OLPC. First target: Ethiopia, who purchased 50,000 OLPC's.
[Update: Great article on OLPC and Classmate at ZD Net]