I've been sitting on this little nugget of information for the last month, but am happy to finally announce that I'll be going to the DEMO '08 conference in January. DEMO is the leading conference for new technologies to launch. It's generally packed with a ton of VC's, startups and some really interesting people. DEMO is one of the very best conferences in the tech space and one that I've always wanted to attend.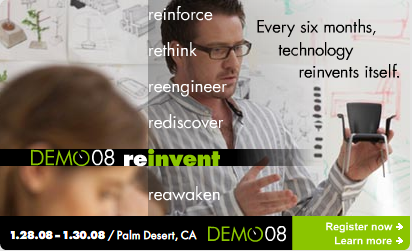 "DEMO is the premier launch venue for new products, technologies and companies. For more than 16 years, DEMO has established a reputation for identifying and presenting to an elite audience the products most likely to have a significant impact on the marketplace and market trends in the coming year. "
Africa: The Untapped Continent
I was initially approached because of my writing on AfriGadget and WhiteAfrican – where I try to cover the spectrum of low-tech to high-tech innovation happening in Africa. Juliana (aka: Afromusing), another AfriGadget editor and also an editor of Global Voices, will be on the panel as well. [Update: Mike Stopforth will be there to represent some of the views from the South African community as well – which I'm thrilled to hear!]
What they want us to discuss is the future. Specifically, this audience is highly interested in investment, so we will be discussing how Africa is a virtually untapped region, areas of growth, and we'll be filling them in on companies and ideas that they had no idea existed.
My goal, as many long-time readers will expect, is to get the audience to understand that there are huge opportunities in Africa. This runs the gamut – from low-tech innovations that can be scaled for distribution globally, to high-tech mobile phone services that grab millions of consumers in Africa.
Needless to say, I'm really excited about this. It puts me right in front of an audience who have the resources necessary to make the ideas that I talk about everyday into reality. These are the people who can help African companies grow and become players on the world stage.
If you want to see more of what types of things go on at DEMO, check out their past DEMO videos.