Those are the words that describe millions of Kenyan voters.
Disappointed at their current president, Mwai Kibaki, for playing Moi-politics.
Angry at their ministers of parliament, voting an unprecedented number out of office.
Jaded by the election results – wondering if bothering to come out for the next elections is even necessary.
Of the three, I would suggest that citizens being jaded is the most harmful for the long-term. Why bother voting if you can't have the confidence in your government to count them openly and honestly?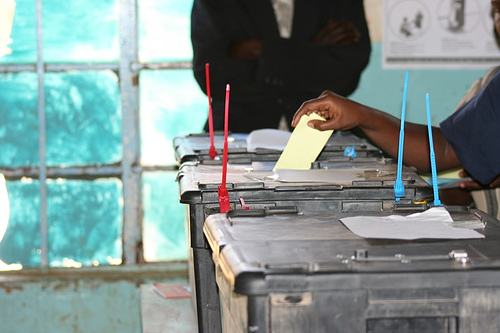 Image by Afromusing
A short summary:
Massive turnouts for this election in Kenya. Many incumbents were voted out of their parliamentary seats. Raila Odinga was a heavy favorite over incumbent Mwai Kibaki for president, and appeared to be in the lead by a good 40,000 votes. Counting was delayed. The electoral commission claims that Kibaki won by 200,000+ votes. Riots begin, and a state of emergency is declared.
Blog coverage of these elections have been excellent. The Kenyan blogosphere is one of the best and biggest on the continent, and they did their jobs well.
Ory gave some of the best media coverage of the elections, better than the traditional media, on her blog KenyanPundit.
MentalAcrobatics claims that something is not right with this election and also has a good post on the Kenyan election experience.
More coverage on the Thinker's Room.
Juliana has some great pictures of the elections from upcountry.