Here is a running list of blogs to keep updated on. If you have another one, send it in and I'll add it to the list.
Kenyan Pundit
Joseph Karoki ***(new picture blog)
Thinker's Room
Mentalacrobatics
Gerald Baraza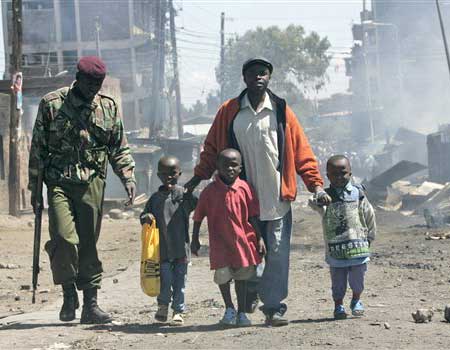 Images from Joseph Karoki's blog
African Path
Mzalendo
Shirel
Afromusing
Nick Wadhams
Jesse Masai
Kumekucha
Chris Blattman
Cold Tusker
What an African Woman Thinks
Mimmz
Farmgal
Kenyan Jurist
Panda Shuka
Gathara's World
Lovely Money
Odeg
Gukira
Ryan Sheely
Jesse Masai
Shashank Bengali
Crystal Balls
Kenya Imagine
Rob Rooker
Udongo
African Rhetoric
Jikomboe
Kenya Patriot
Africa News
8 Months in Nairobi
Bankelele
Toxic Tribalism
Baldilocks
Lost White Kenyan Chick
Amani Kenya
Eyes on Kenya
Jewels in the Jungle
Shailja Patel
Paza Sauti
Concerned Kenyan
Breaking News Kenya
Updates on Kenya
Sukuma Kenya
Siasa Duni
Kwani Blog
MamaMikes Blog
A Future Minded Kenyan
A couple of Facebook groups have popped up:
Peace for Kenya – Videos and Pictures
Praying for Peace in Kenya
Kenya's Post-'Election' humanitarian crisis
Global Voices – Excellent overviews from the Kenyan blogosphere by Ndesanjo: (1) (2)
Africa News – Newsletter with an overview of the movies that were made by their mobile phone reporters in Nairobi.
[hattip hajjzak]