Sometimes there's nothing more that you can do at the time than report what you see. That's the idea behind the project that Ory thought up while reporting on the Kenyan elections. Basically, let's create a mashup that people can report into on incidences of violence that they see.
Basically, you have an incident – that hopefully someone gets a picture or video of. A report on what happened and who was involved, and a location. That information is submitted and then populated into a map-based view that is easy to search by location and/or category.
It seems to me that the easy part is the mashup. Many past examples of map mashups pull from a database (or RSS feeds). In this case, a new database would need to be created. It too could have an RSS feed for "new" reports though and become the nexus for cataloging post-election incidents in Kenya.
An Example:
Below we see a reported atrocity in near Eldoret, Kenya shown on Google Maps. Imagine if this was done with all such incidents of violence throughout the country.
(click on the flames)
View Larger Map
An image of what happened: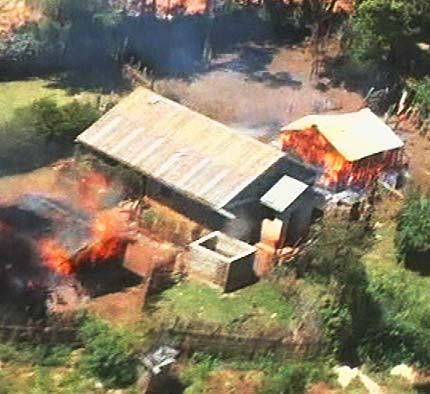 Something like this, but more centralized and easy to access by anyone around the world.