As I mentioned in my last post, it would be good for us to have a tool to chronicle the incidents of violence happening around Kenya. That is the basic premise behind a new site that was quickly scratched together by a couple of us this weekend.



Ushahidi.com is a tool for people who witness acts of violence in Kenya in these post-election times. You can report the incident that you have seen, and it will appear on a map-based view for others to see. Ory and Daudi are working with local Kenyan NGO's to get information and to verify each incident.
What you can do is get the word out about Ushahidi so that it's utilized to it's full potential. This especially extends to talking to the people that you know who have seen things in Kenya and getting them to the site as well.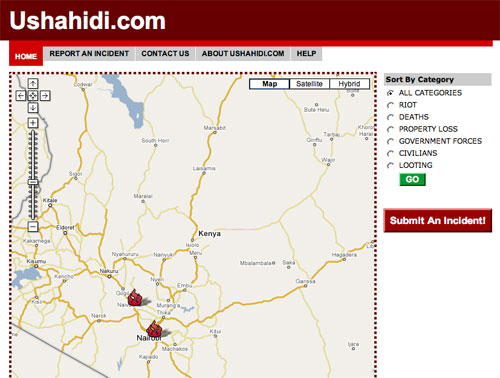 the Ushahidi.com Homepage
At the beginning of a project like this the technology portion can seem to be the hardest to get off the ground. In the end, it's just the tool, and the hard work will come from people in the field who are working with NGO's to keep this information accurate and to chronicle as much of it as they can. If you want to help, get in touch with Daudi or Ory to get started.
When all the dust settles from this in Kenya, don't be one of the ones saying, "I should have done something".
[A special thanks goes out to David Kobia of
Kobia Interactive
for stepping up and shouldering the load and developing this site in just 2 days!]
Get the Word Out!
If you would like to raise awareness of Ushahidi via your blog or website. Feel free to use one of these buttons that I created, or make your own. (You can grab them from the Flickr set too)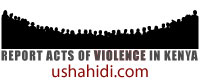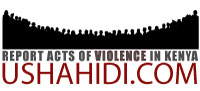 The code for the bottom one would be like what you see below, which you can just copy and paste:
<a href="http://www.ushahidi.com"><img src="http://whiteafrican.com/wp-content/uploads/2008/01/ushahidi_v2c_250px.jpg"
alt="Ushahidi Button v2c 250px" /></a>