[This is one of my longer posts, so here is a brief synopsis, followed by some more detailed thoughts and ideas:
Countries like Kenya, in times of crisis, aren't necessarily closed for tourism. There are often many great, safe places to go on holiday. How could technology be used to create ways for possible tourists to find current, honest and credible information about a location before they cancel their trip due to inflated news stories that make you think a whole country is burning?]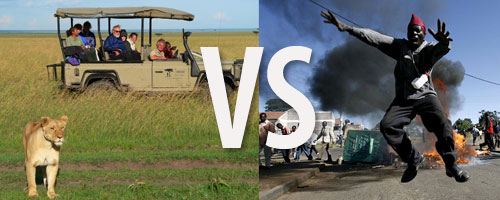 Tourism in the Balance
I just got off the phone with someone who is heavily invested in the East African tourism market. As would be expected in times of unrest, tourists are canceling their flights, hotel rooms and safaris in Kenya. The long-term repercussions of the current crisis will hurt this $900 million industry badly. CNN recently did an article on just this, stating:
Conservationists in parks such as the Masai Mara say they rely on tourism to keep the parks up and running. But even though no violence has been reported in the parks, and no tourists have been killed in the violence, tourists are still too scared to come to Kenya, officials say.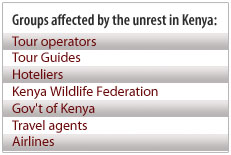 So things are looking bleak in Kenya, but the same types of things happen elsewhere in Africa whenever there is civil unrest, natural disasters or some other type of crisis. The international news sends back just these images, that might only be affecting small pockets of the country, and an industry is ruined for 2-3 years.
Challenges Beget Opportunities
So, as with every challenge, there lies an opportunity – many times with a technology component that will help counter the "bad news only" media. In this particular case, we know that some parts of Kenya are in rough shape, and that no one should go there who doesn't have to. However, we also know that much of the country is safe and not likely to see any type of disturbance.
If I were to create a strategy for how Kenya can better show the world how things are in the tourism industry, I would start by creating an accessible flow of hyper-local information. You see, tourists need to know that the travel to their destination will be uneventful, and that their safari will still be fun and without fear of any domestic disturbances.
The low barriers to getting a website online make that a particularly attractive option, and likely a key component of any strategy. I would also consider employing a couple contributors on the ground in Kenya that would be able to go from location to location and report truthfully on why, or why not, to go there. They could upload videos, pictures and interviews of people on vacation.
While we're at it, we might as well provide a map-based view of the country that showcases the most recent news, good and bad areas to go, reviews and submissions by tourists about each hotel, game park and tour operator. Basically, it has a lot of the components you would find on TripAdvisor, IgoUgo, TravBuddy or any other macro-travel guide, except that this would have up-to-date hyper-local information that only people on the ground there could provide.
A Video
An interview with Dr. Achieng Managing Director of the Kenya Tourism Board. It provides another perspective on the issue, especially how it affects everyday Kenyans. Alos, he covers the challenge it faces and opportunity provided by the crisis: