A big thanks goes out to Nick Rabinowitz who saw what we were doing on Ushahidi and offered up his technological expertise in the mashing up of timelines and Google maps. This is really cool stuff, but beyond that, it's incredibly useful for visualization as well.
One of our hardest problems with the current Ushahidi UI was trying to show the chronological implications of the data we were receiving as incident reports. What the Ushahidi Timeline allows you to do is see what, where and when it was happening – all on one screen.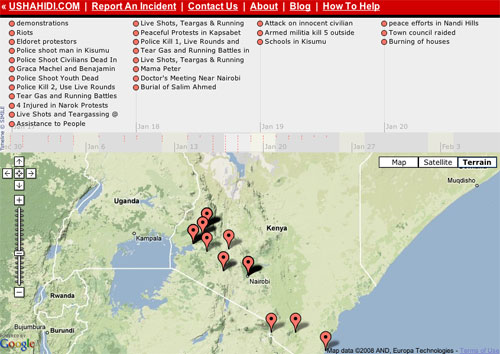 How it works:
You can scroll the timeline by dragging it from left to right. As you do that, the events on the map dynamically update to what is being shown on the timeline.
Clicking on an event will open the "detail bubble" of the corresponding event on the map.
Within the detail bubble, you can click to find more information about that incident.
A Kenyan Shortcode Number for Reports
Thanks to some fellow Kenyans, you can now send reports directly via your mobile phone to 6007 in Kenya.
An Ushahidi Blog
Ironically, Ushahidi was started by bloggers but a blog was one of the last items that we put onto the site. Well, we now have a blog up so you can find out more information, helpful links, updates, thoughts and videos there. Send in stories from Kenya too, we'd like to post them.
What About a "Global Ushahidi"?
What we're starting to see with Ushahidi is a template for public-facing crisis information. Over the last two weeks I've been working with Ory and David to come up with an overview of what a global site might look like, its requirements and how interaction with NGOs and the public happen. We can't build that product without funding though, so contact me if you're interested in seeing the document and potentially supporting it.