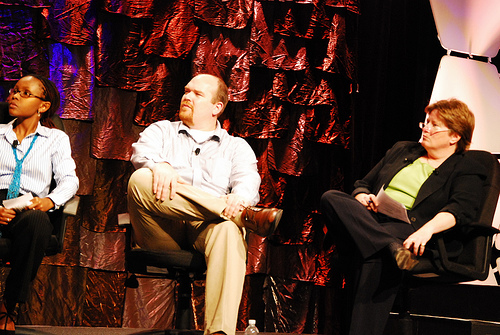 (Image by Tris Hussey)
DEMO 2008 is over, and it was a great time. Above is a picture of Juliana Rotich and myself with Chris Shipley doing panel on Africa (Mike Stopforth is off the frame). We discussed a wide variety of topics, covering mobile phones, innovation, cultural differences and how to manage for crisis situations on the continent.
Hopefully our goals of helping people understand that Africa isn't all the media paints it and that there are real investment opportunities to be had all over Africa was met. Judging by the conversations with investors, developers and media afterwards, we were successful.
DEMO God Awards

Chris gave out 10 awards to honor the top products of the 77 that presented. Though I liked all of the ones she brought up, I decided to give my top 10 as well. Some of these are groundbreaking products, others are just very well executed.