I didn't realize how time intensive and draining the first 2 months of 2008 were going to be for me. I've been fortunate enough to be invited and attend some fabulous conferences over the last 6 weeks, and though it's tiring, it's been well worth it for the discussions and contacts made. There are some seriously smart and gifted people out there, and I'm just glad to meet them and pick their brains for a little while.
The conference rundown:
Inman Real Estate Connect NY – New York, NY (speaking)
NAIAS (N. American Int'l Auto Show) – Detroit, Michigan
DEMO 2008 – Palm Springs, California (speaking)
Harvard's Berkman Institute Meeting on Digital Activism – Istanbul, Turkey (speaking)
Future of Web Apps – Miami, Florida
SXSW – Austin, Texas (speaking)
Upcoming Conferences
Next week I'll head down to the Future of Web Apps in Miami. I attended the very first one in the San Francisco area a couple years back, and I have to say it's the best value for the money spent period. The content, conversations and connections made are just unbeatable for $145.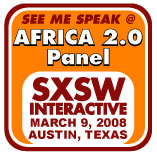 The following week I'll be at SXSW in Austin, Texas as part of the "Africa 2.0: Affecting Change Using Technology" panel lead by G. Kofi Annan. It really looks to be an interesting discussion, with a good mixture of individuals with a wide range of interactive experience on the panel.
If you're going to be at SXSW, let me know so we can get together.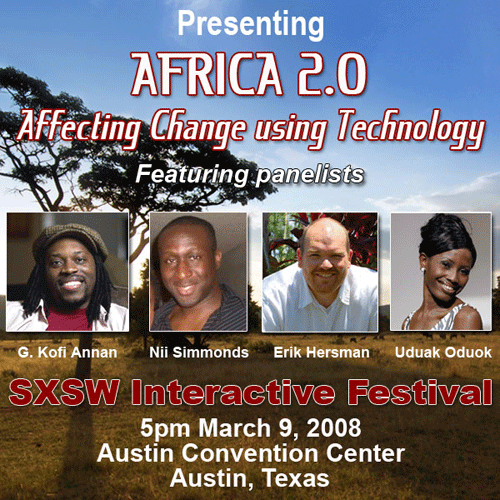 After SXSW things look to be calming down. The only conference that I really have on my radar is TEDAfrica happening in Cape Town at the end of September. This is probably good, as I'll finally be able to focus on my projects a little more.