The Future of Web Apps (FOWA) has started. Tantek Çelik and Brian Oberkirch are MC'ing the event, and doing a good job. Both are witty and have plenty of credentials to be here talking.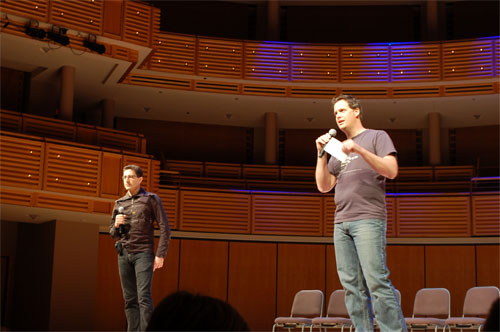 One of the main reasons I decided to attend the Future of Web Apps in Miami today was because of two speakers: Kathy Sierra (of Creating Passionate Users) and Matt Mullenweg (of WordPress).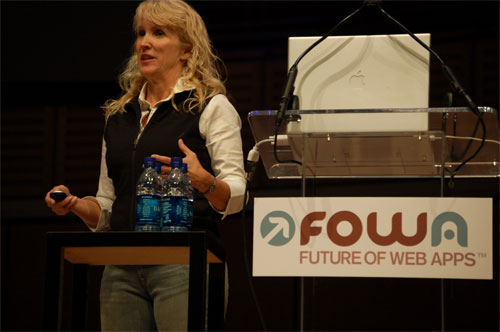 Kathy Sierra is up now, talking about how the brain, technology and human interaction. I still think she's one of the top communicators online with her visuals, now I know she's equally adept offline and in-person. Her visuals in the presentation are quick, interesting and applicable. Lastly, if you're looking to learn HTML/CSS, she has written the best book I've seen on it (book link). It's a real treat to be here and worth my time and money.
Some Kathy quotes:
"It's not about the tools we build… it's NOT about beinga "tool" expert. It's about what the tools let them DO. People don't become passionate about the tool, they become passionate about what the tool lets them do."

"Usability is merely a prereq."

"What do you help your users kick ass at?"
Matt Mullenweg, the creator of WordPress (what this blog and millions of others are built on), just took the stage. I last heard him talk at the first FOWA conference in San Francisco. Besides being a wunderkid, he comes across as really laid back and down-to-earth.
Listening to Matt talk about scaling large web applications has become suddenly interesting to me, due to my recent thoughts on a global, open-source version of Ushahidi. Those who I've had a chance to chat to about this project have heard me spout endlessly about using the "WordPress Model" (more on that some other time).
Some Matt quotes:
"One of the most important items that developers need to do to scale is separate their static from their dynamic content."

"As the founder, you have to be the most passionate user, because everyone who comes on after you will be less passionate. This means you need to be in the community answering questions and helping solve problems."

"I recommend you stay away from locking yourself into particular revenue levels (ex: $15 for x level of goodies). With WordPress we've set it up like a good buffet where you can just pick up an upgrade from a big group of options. However, that didn't work perfectly, so we added non-intrusive ads as well."
Matt just mentioned that it's actually kind of sad how the CNN political blog that he serves on WordPress.com VIP system still gets less votes that Icanhascheezburger on its worst day… (sad, funny, and I've been looking for a reason to link to that site for a while). 🙂
[My Flickr Pictures of FOWA – Pictures by everyone else]