I'll start by saying that coming to the SXSW conference has given me far more of a return on my time and investment than any conference besides TED. The people you get to talk to here are, by and large, interesting and usually doing cool stuff.
The Africa 2.0 Panel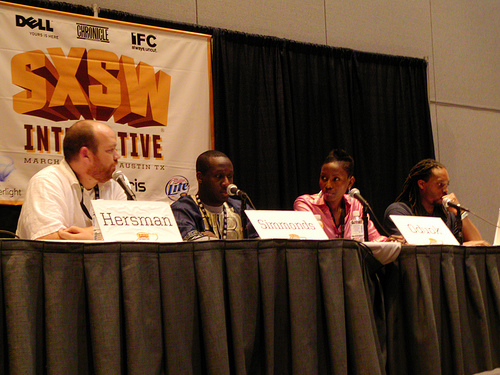 [image by Martin Kliehm]
I had the honor of sharing the stage with Kofi, Uduok and Nii today. Kofi moderated the panel, and did an excellent job of keeping it going. He was the one who put in all the hard work to make this panel happen, and then to organize us enough in advance so that we had a coherent conversation on stage.
To be honest, I wasn't sure what to expect, since it seemed to be a rather eclectic group. Nii is from the finance and business world, Kofi from design and marketing, myself from tech and Uduok from fashion and design. I don't know much about the fashion industry, but Uduok did and was incredibly well spoken and poised as she discussed it. I learned a lot from just listening to her discuss Nigeria, Nollywood and the fashion industry.
The best part of the panel was the after-panel discussions though. A dozen of us got together and went to grab a bite to eat, where we continued to discuss the uses of technology in Africa. Discussions ranged from activism to sports (Nike was present) and everything in between. Another highlight for me was when fellow African blogger Gareth Knight showed up, and we talked about his new and highly successful "family tree" app: Kindo.
The Keynote Trainwreck…

The trainwreck that was the Mark Zuckerberg (Facebook) keynote by Sarah Lacy was just so awkward. In fact, it was rather ugly. Read about it here, here, here or here. Watch the non-empathetic after-video of her here, or the full video here. Just amazing to watch someone lose it this bad.