I'm at the "Mobile Phones: International Devices of Mystery" at SXSW. It was a hard choice to make between this panel and the "Hardware Mashups: Introducing the Long Tail of Gadgets" panel. The deciding factor was Nathan Eagle, of EPROM, being in the mobile phone session. He's been in Kenya for the last year or two, doing some really amazing stuff with mobile phones and getting university students excited about developing for it.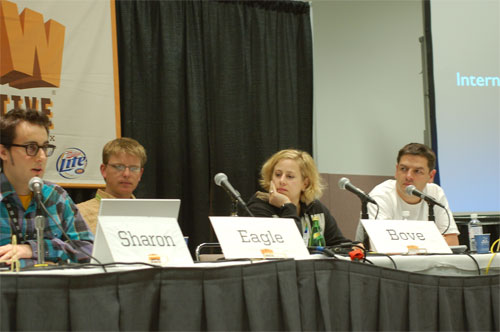 Nathan Eagle – EPROM and MIT (Lives in Kenya)
Matt Jones – Dopplr (used to work for Nokia)
Jennifer Bove – Huge Inc
John Poisson – Radar.net
Michael Sharon – Socialight (South African)
A last minute addition is John Poisson, of Radar. I'm really glad to see him though, as I've been following Radar for a while now and think it's a great application. This makes sense, as he just said they started with mobile as being the primary experience, then the normal PC web. He also strongly believes that mobile apps should work across all carriers and platforms, and that that's hard to do.
What are the most interesting and unexpected things you've seen?
Nathan Eagle – using mobile phone credits for money. Transferring airtime in Kenya (Mpesa). He tells the story of using Mobile phone credits to pay for matatu rides and paying for groceries at the local duka.
Jennifer Bove – Got a message from the Italian government saying not to visit Rome as the Pope was dying.
Matt Jones – the designers for mobile phone manufacturers should live/work in their same environments as their users, not in their "Volvo estates."
What are the most common phones you see?
Nathan Eagle – Cell phone alley in Nairobi, where you can see the hackers their put together a GSM phone for a grand total of $!2.95. Most of the phones are pre-2003 in a lot of places in Africa. You have to think about the phones that were used in the West in the '90s.
Matt Jones – You need to look for the "universals", the things that everyone has. High-end phones and their projected uses really only reside in the minds of the product managers at the manufacturers.
The "road to free"
It varies between countries and regions. It can cost around 20 cents in Kenya to send SMS between competing carriers. Also, think about the flat-rate data plans in the US vs other parts of the world. The path to free in developing regions tend to go different ways, like Mxit in South Africa using Java and the data layer.
Nathan brings up the use of "beeping and flashing", also known as a "Scottish Call". Ring once = yes. Ring twice = no. User groups decide on the way they will communicate without paying anything. Quasi-conversations for free. This happens all over the world, not just in Africa.
Question Time:
Someone asked whether there is a future for creating a mobile social application for Africa. Nathan thinks that would be a good idea, but that his students just want to create Facebook apps. The biggest problem is if it's based around SMS, then you have to really provide strong incentives to get people to use this relatively expensive medium. (note, again there is a real opportunity around the future use of Java apps on phones in Africa, like Mxit is doing in South Africa.)
How do you see video usage in Europe and Asia? Matt Jones answers that they're seeing more peer-to-peer MMS sharing of video between friends, and they can be very viral. How that moves from this p2p darknet to the internet (ie: YouTube) is still not all there, but it's starting to percolate up.
How do you monetize in the mobile space? Poisson states that it's still being figured out, but buying apps probably won't work. Sharon mentions the "Call Me" service in South Africa, and how they monetize by putting ads in the short SMS message (of which there are about 20 million being sent out per day). It sounds like advertising is the main model right now.
How about mobile payment?
"With things like Mpesa minutes/credits are acting as a surrogate to money, so carriers can just print money. After all, they just create more airtime." – Nathan Eagle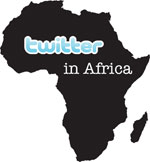 Twitter in Africa Sidenote:
I just chatted with Blaine Cook of Twitter. I had heard that that some South Africans were having their SMS messages throttled for Twitter. It's true, they are. The limit outside of the US is 250 SMS messages outgoing from Twitter per week. It makes sense I guess, since they're eating the cost on those messages and not at the same cheap rates they get in the US.