Few people around Africa, or the world, are unaware of the injustices being perpetrated against Zimbabweans by their government. It has gone from being the "bread basket of Africa" to a place of staggering inflation and a broken economy. Through it all, there are a few voices online that help bring the real stories of what is happening there to the world.
One of those voices is Sokwanele (which means "enough is enough"), an excellent resource for background and news. Just recently they posted on their blog This is Zimbabwe about a project they have created to map breaches in the Zimbabwe elections using Google maps.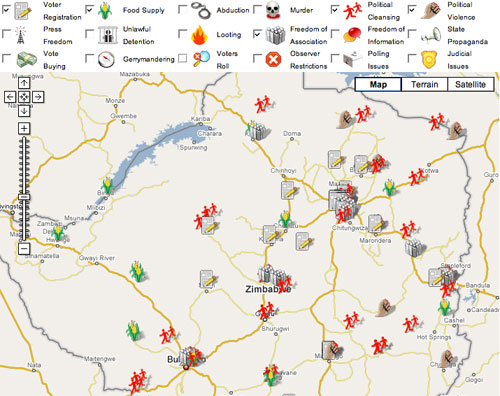 This map mashes up the data that Zimbabwe Election Watch has collected of government intimidation, via the media, with a Google map. Due to the hostile climate towards journalists, the urban areas get more coverage than the hard-to-reach rural areas. If anything, the creators of this map feel that the data is under-reported.
The interactive map aims to give a visual impression of the scale and many ways in which the Zimbabwean government has breached the SADC Principles and Guidelines Governing Democratic Elections. Elections are a process, not an event, and the same applies to rigging: the scene has been set for unfree and unfair elections on March 29th, and the conditions on the ground have been developed through many months of non-compliance with regional electoral standards.
In just a few days Zimbabweans will begin lining up at the ballot box to cast their vote. It's hard to voice your vote for the opposition though. There are reports of "underground" SMS messaging campaigns, but everyone fears the government (or their sympathizers) backlash if they are found out.
It's a tough situation, one that technologists have been fighting to try and help with on two fronts: to keep information flowing internally within the country, and also to make sure that the rest of the world sees the images and hears the stories of what is going on within the Zimbabwe. This SADC Breaches map is a great example of external messaging and visualization.