Today is the first day of the Global Philanthropy Forum. Last night I was pleased to find out a couple of connections from TED Global were present; Ali Mufuruki of Infotech and Kevin Starr of the Mulago Foundation.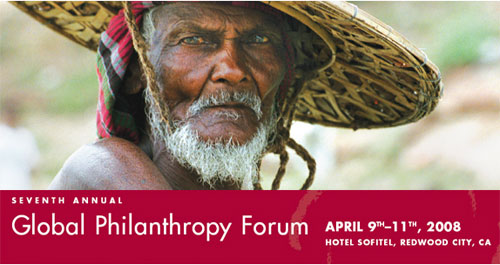 I'll be speaking on a panel here tomorrow called "Early Warning: Listening, Technology and Activism". My fellow panelists are:
[M] Mitul Shah, Senior Director, Technology Partnerships, United Nations Foundation
Mark Smolinski, Director, Predict and Prevent Initiative, Google.org
Erik Hersman, Web Strategist, Ushahidi.com
Jan Chipchase, Human Behavioral Researcher, Design Team, Nokia
In the evening I'm heading off with Jan Chipchase (who I happen to be a big fan of) to an Adaptive Path event about using mobile phones, design and development called, "Street Hacks and Long Wows". Should be a lot of fun! If you're in the area, come and join us.