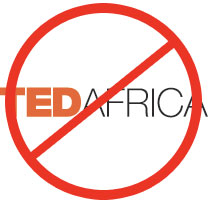 Unfortunately it looks like TED Africa won't be taking place in September of this year. A lot of us were looking forward to this, so it's very disappointing.
I hope they can get this to work in 2009.
Here's the email from TED curator Chris Anderson:
Dear Friends of TED,

Regretfully, we're having to suspend plans for our TEDAfrica event scheduled for the end of September 2008 in Cape Town.

As you may know, we sought to launch this event under the control of a local team, operating under a license. The goal was to build on the full impact and quality of the TED conference held in Tanzania last year. But after reviewing progress with our licensees, we have mutually agreed that that is not going to be achievable in the available time. Our licensees did all they could to deliver on an ambitious plan, and I commend their efforts.

We apologize to those of you who are disappointed or inconvenienced. TED remains 100% committed to continuing to serve its growing and passionate African community. We are considering a number of options, including holding an event in 2009, and expect to make a further announcement soon.

If you have any specific questions or concerns, please write to my colleague jane@ted.com. Meanwhile we will continue to promote content from the Arusha conference online and to work on Neil Turok's amazing TED Prize wish: that the next Einstein should come from Africa. Please take a look at the nexteinstein.org website just launched by TED partners Avenue A/Razorfish, as well as this recent TEDBlog post celebrating the new AIMS Research Centre in South Africa.

Sincerely,

Chris Anderson
TED Curator
If you're looking to take part in another conference in Cape Town, Gareth Knight is putting on Tech4Africa, which was supposed to be right after TED Africa.