Wananchi is one of the largest ISPs in Kenya. I was invited to come see the installation of Wananchi's brand new Intel Sat satellite dish, for use in their new WiMax, fiber and cable TV offerings. Two reasons it was interesting.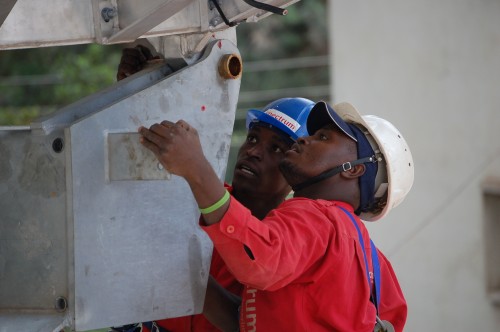 First, because it's being installed in Upper Hill, my old neighborhood. I just don't recognize this place anymore with all of the new commercial buildings.
Second, and probably more interesting to everyone else, is that this dish is aimed directly at the mass market in Kenya and stands to drastically lower the costs of bandwidth to the home. Wananchi will be offering 512k broadband to the home for 3000 shillings ($). Compare that to the next best offerings by Safaricom with their new 3G service for 2000/= (700Mb) or 4000/= (2Gb), and Access Kenya with 256k at 6000 shillings.
From here, it looks like anyone wanting to stay untethered and who doesn't have that high of bandwidth consumption would likely choose Safaricom (700Mb isn't a lot). However, if you're going to spend more than a modicum of your time on the internet, then Wananchi's new service is the most attractive.
Wananchi's towers also have fiber pumped directly into them, so more speed and reliability out of the gate. To manage their large 100 tower rollout in the Nairobi area, they're piggybacking cell towers with Celtel, and hope to be done by around October. Certain towers, with service off of this new dish, will go live by the beginning of July.
All told, I have to say I'm impressed. Not just by Wananchi's offering, which will come as great news for the public, but that the communications industry is moving along so quickly. Thought international fiber is still a dream in Kenya, local connectivity is booming.
So, where's the local version of WordPress MU setup for local bloggers? Where are the local web services by local software guys for local companies? That we shall find out shortly, this weekend at Barcamp Nairobi.
(Update: Full-sized images on Flickr)