Things started on Nairobi time, we had some chai and samosa, now we're beginning the sessions. There seems to be over 100 people here already. T-shirts are being handed out, and we're passing out O'Reilly books and Yahoo freebies during the day.
TAG for blogging, Twitter and Flickr: barcampnairobi
My Barcamp pictures are going up to this set on Flickr.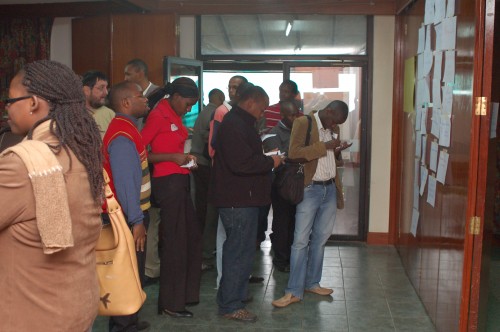 First up is:
Where are the devs? – Riyaz Bachani talks about the increasing bandwidth options in Nairobi, but asks where are the online entrepreneurs?
Google Maps as Platform – Mark from Google Kenya talks about using Google Maps in detail.
BugLabs – Brian Muita gives an overview of hacking the BUGbundle, showing his new accelerometer game, then opening up the device for hacking by devs today.

Second group:
Ubuntu – Mzungu talks about using Ubuntu, LTSP server, and running applications on the server instead of the workstation.
Plone (cms) –
I'll be going up in the third session, talking about "blogging tips and tricks".