Gregg Zachary happened by Barcamp Nairobi last month and had a chance to meet with a few of the techies who were lingering around after the event. Conversations from that night spurred his article today in the New York Times titled, "Inside Nairobi, the Next Palo Alto?".
It's a good read on why Kenya, even after the violence in January and February, is still a tech hub in Africa. Between Skunkworks, Google Kenya and an active (and creative) coding community you have the makings of a great place to do web and mobile development in Africa.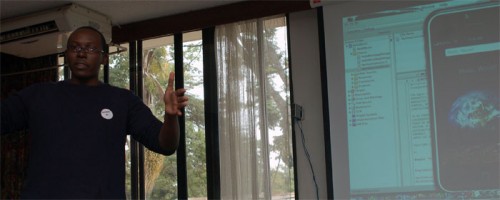 Here's the excerpt on Wilfred, who is building the Ushahidi iPhone application. He's also using my old MacBook Pro and, assuming everything goes right, he'll have an iPhone to play with later on this year. 🙂
"Consider Wilfred Mworia, a 22-year-old engineering student and freelance code writer in Nairobi, Kenya. In the four weeks leading up to Apple's much-anticipated release of a new iPhone on July 11, Mr. Mworia created an application for the phone that shows where events in Nairobi are happening and allows people to add details about them.

Mr. Mworia's desire to develop an application for the iPhone is not unusual: many designers around the world are writing programs for the device. But his location posed some daunting obstacles: the iPhone doesn't work in Nairobi, and Mr. Mworia doesn't even own one. He wrote his program on an iPhone simulator.

"Even if I don't have an iPhone," Mr. Mworia says defiantly, "I can still have a world market for my work."
It's really good to see the Kenyan tech community get this high profile piece. Riyaz, Josiah and Eric have been the steady center-pieces of the growing Skunkworks crowd. Chris and Joe are doing great things at Google Kenya.
Oh, and Nairobi is a small town after all… Most don't know that Josiah (Skunkworks) and Chris (Google Kenya) are old classmates from Starehe. A lot of old connections just like that tend to be the glue that keeps everything together.