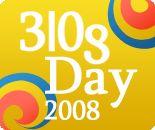 Recently Merlin Mann wrote an outstanding post on what makes a good blog, and why they're so rare. I'd suggest everyone read it, especially if you're trying to figure out how to be a better blogger. Having said that, in honor of BlogDay 2008, here are 5 Africa-focused blogs that I think are interesting. Keep in mind, I'm particularly interested in African tech so that's why they lean in that direction…

Nairobi Notes
I initially found out about Nairobi Notes through her Twitter updates (@nairobinotes) – they were interesting, funny and timely, which eventully led me to her blog.

Startup Africa
First off, I love their name – I'm just not sure how they got that amazing URL… How was it not taken? Anyway, Startup Africa does an excellent job of providing news on events, websites and startups in Africa, with a particularly good focus on South Africa.

TechMasai
Another new favorite of mine in the African web tech scene is TechMasai. They profile new African websites and services, often with some opinionated commentary which I like.

Mootbox
Short, interesting, and tends to be Nigeria-focused. In Omodudu's own words, it's about, "business, Micro-finance, Social Entrepreneurship, Small business development and other assorted randomness." Follow Oz on Twitter too @Osize.

Jackfruity
I could just tell you that I like this blog because of it's design – I've always salivated over Rebekah's site design(s). However, she writes really cool and interesting stuff about Uganda, Sudan and humanitarian issues too. Keep her in your feed.
That's all for this year!