I spent this Saturday morning listening to some pretty smart bloggers at IZEAfest in Orlando (Merlin Mann, Loren Feldman, etc.). This afternoon I'm on a panel talking about blogging tools. Below are my notes and slides for that short talk.
Simplify & Streamline It
If you're like me, you don't blog for a living, but you're trying to blog while you're living. I need tools and features that simplify my life and make it easy for me to be more effective as I'm doing the day-to-day things that actually run my life. That means I mainly want tools to work in the background, or I want a system coordinated in such a way as to make the work I have to do a lot easier and streamlined. So, it's a little bit about making things easier and being productive while going about it.
All Things in Moderation
My next consideration is how cluttered additional items make the site look. Your mileage may vary – and it will depending upon your readership, but I like to keep my sidebar clean. Not empty, but with items that are relevant. So, I'm extremely careful about adding a new sidebar item. For me, this rule also applies to the posts themselves, so I'm careful not to add too much before or after the main text as well.
The cluttered look itself
Slow page load
Ads – Takes away from things that are making you money
Most readers don't care! (about your Technorati or Alexa rank, about the local weather in your area, etc…)
The Tools
Okay, so let's dig into a few of the tools that I use, and I'll explain why I use them and why you might want to use them to. I've broken these down into a couple categories: 3rd party tools and plugins.
First off, I want to run down the "must haves", then I'll give you a list of items that are also worth looking into.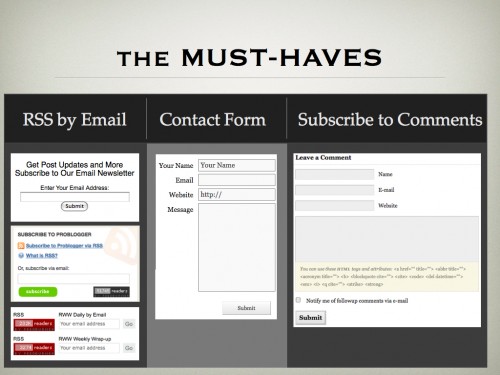 Email signup (Feedburner or Zookoda) (3rd party)
Most people don't know what RSS is, make it easy on them and allow them to get a simple email whenever you post something new. By the way, I've seen this happen on to many blogs to think it an accident – most blogger's feeds double when they install this. Oh, and talk about a secondary way for ads to be delivered too…
Subscribe to comments (WordPress plugin)
Want people coming back for more? For many readers, this is the best way to stay involved in a conversation that was started on your blog post. They don't need to keep checking to see if anyone responded to their comment, they can just get it in their email box.
Contact Form or Page (cforms) (WordPress plugin)
Please, please, put a simple contact form on your blog. There's no excuse for not providing a way for readers, old friends and potential advertisers from getting in touch with you this way. This has the additional impact of not putting your email address (however mangled) onto the website. Simple and it can be done really easily with plugins.
Integrating 3rd party tools
One of the easiest ways to be a little more productive is to integrate blogging with other third party tools and websites that you use. For instance, I like to take pictures, so I make sure that I can easily blog straight from Flickr as needed. The same rule applies to YouTube, or any of the other video or image hosting sites like Picasa.
Plugins
I'm a big WordPress fan, though I have used Blogger before, so I apologize in advance to any Typepad users when I start talking plugins – I just don't know much outside of the WP plugin world. I don't use a ton of plugins myself, usually between 5-7 of them is all that I really need, here are my favorites:
Akismet
Contact form (cforms)
Subscribe to comments
Feedburner feed replacement
Role manager (more than one author)
WP database backup
WP Super Cache
Recent Posts
Related Posts
Tools for Tracking and/or Better Content
All of the previously mentioned tools are good and useful, but beyond the tools directly used in your blog you should also think about some of these others that will help you manage your content and track what readers really like.
Twitter – using either Monitter or Twitter Search
Your RSS reader – being informed is a very important part of the blogging process, plus it really helps with blogger's block
Moleskine notebook – For all those ideas that you get in the strangest of places
Google Alerts – track yourself, your blog, or important words
Technorati – see who's linking to you