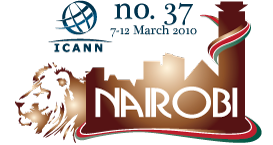 ICANN is the body that governs the assignment of domain names and IP addresses worldwide. It's supposedly a non-profit, but their salaries might indicate otherwise. They decide if there's going to be a new top level domain (TLD), and are behind the present craziness of letting anyone just choose their own TLD. They split the world up into 5 zones, and each year they go to one of these zones for their annual meeting. This time it's here in Nairobi.
You can see the full schedule of this week's events here.
The meetings are to be held at the Kenya International Conference Centre (KICC), who as organizers of the space have already fumbled the ball. They've double booked KICC on Mon/Tue of this week with the 6 heads of state (and all their security) of IGAD; Djibouti, Ethiopia, Kenya, Somalia, Sudan and Uganda. ICANN is none to happy about this, as stated on their blog:
"With that many national leaders and scores of security personnel arriving at our meeting venue at one time, we expect it to cause severe inconveniences and at times possibly major disruptions for our community members as they attempt to enter and move around the KICC."
Major items on the agenda:
Here's a video from Gray Chynoweth where he outlines the topics for this ICANN #37 event including security and remote access, new TLD's, the .xxx gTLD, DNSSEC rollout, root scaling, WHOIS study and more.
New TLDs— a discussion of what the "EOI" (expressions of interest) process will look like for pre-registering new gTLDs. ICANN provides more information on this here.
IDN ccTLDs – a status update on which countries that have applied using the "fast track" and where they are.
The .xxx extension- will it proceed and when.