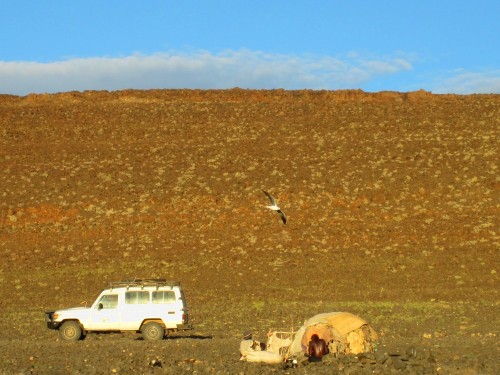 We finally made it to Loyangalani near the shores of Lake Turkana last night. A day-long drive that took us from Korr through the Ndoto Mountains and South Horr (where we had to clean out some rotten fruit in the wheel well – left overs from our time being stuck).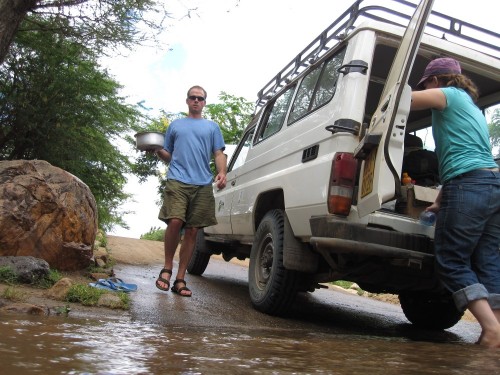 It's amazing how green everything is. Even on the shores of the sunburnt and wind-blasted lake there is some grass and greenery – unusual, so I'm told. We took an hour to jump in the lake and do some fishing, but Erik only caught Tigerfish.
Along the way we got our first flat tire. The innertube became so hot that it separated itself. While we were changing it, Barak got out his sling. This is your stock David vs Goliath type device and it's amazing just how far he can throw a stone with it. 200 meters is normal.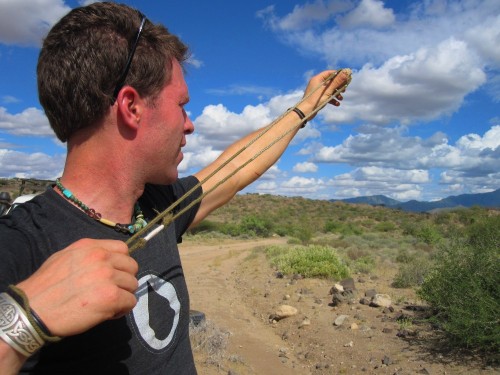 Barak grew up as a missionary kid in Papua New Guinea, besides the sling he's got all kinds of neat gadgets and bush devices that I'd never seen before.
We capped the night off with a camp/cabin setup in Loyangalani, the night was warm and windy, and we ended up sweating most of the night in the tent. Today we head off to see a couple of water projects in the area, and I'm hopeing we make it to Gatab on the top of Mount Kulal for dinner and a cool night's rest.