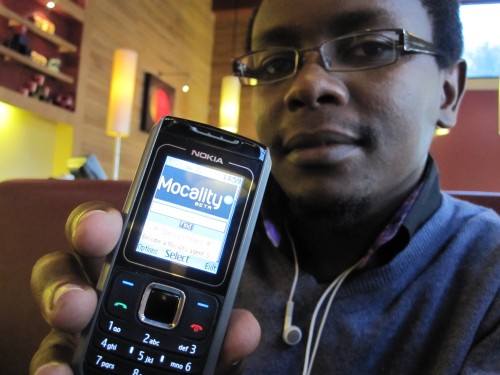 It's not often that you hear of a tech startup from South Africa who chooses to build and deploy their product to Kenya first. In fact, I've never heard of such a thing. However, that is just what is happening with Mocality, a mobile and web-based business listings and directory application built for Africa.

Mocality's job: create a digital platform that makes it easy for business owners to promote and expand their businesses in Africa.
"As a business owner, you get free SMS, a contact list, a free mobile website and a free mobile business card."
Mocality represents this change in the paradigm that we've seen coming on for years in Africa. An application built agnostic to the client platform (mobile phone or PC), where data is fed into whatever you use in a meaningful way. Where the mobile usage is just as rich as the PC use.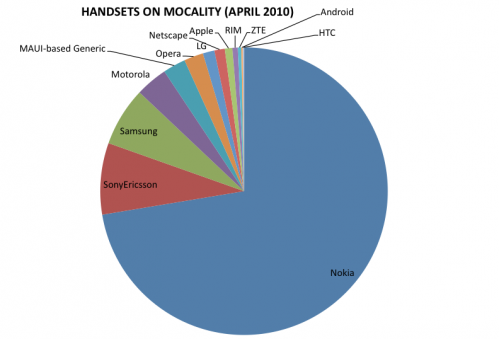 In fact, they've studied usage of mobile phones on their system and have seen the usage of smartphones to be so negligible as to not matter. As CEO Stefan Magdalinski says, "This is the Mocality reality: RIM, Android, Apple are 2% of usage."
About the Team
Successful startups generally have great leaders, Mocality has that. Stefan Magdalinski (@smagdali) is a seasoned web veteran and entrepreneur, co-founder of Moo.com and an early entrant into the programming space in England in the mid-90's, and just recently relocating to South Africa for Mocality. They have plenty of funding, from MIH, a subsidiary of Naspers Group (who has been eying Kenya with recent forays such as Kalahari and Haiya).
I've met with Stefan in Kenya and South Africa, and I've also had the chance to meet some of the members of his team here in Nairobi. The impression that I'm left with is that this is a serious startup, with plenty of funding and a great vision and a strategy put in place to pull it off.
How it Works
Mocality is built for Kenyan businesses that don't have enough money (or value to gain) to advertise in a print directory.
Again, a paradigm shift. They're saying that they don't care about the big end of the power law of distribution (the big companies), only the longtail (small, marginalized businesses). This is apparent in the images below of their typical user: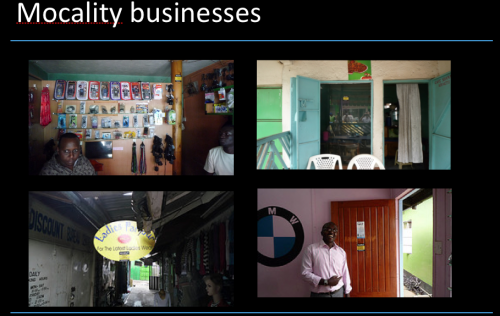 SMS, WAP & Web tools (now J2Me, iPhone)
Businesses can self list
Geo-coding All business locations
Map view of business
Business toolkit:
Add customers & suppliers
Send bulk messages (400 free SMS monthly) (but with anti-spam controls)
Send mobile business card
Add details (e.g. Menus, Special Offers)
Website, google optimised (white hat only)
Important to business owners in this segment is that the platform is free. Services will be added to the platform over time that business owners can pay for, but currently the only cost to them is data or SMS usage on their own mobile phone to access Mocality.
Scaling using the Crowd
Initially, the Mocality team walked all over Nairobi getting businesses to put their listings on the platform. They were successful, and in about 6 months of hard work were able to get approximately 11,000 businesses listed. That's good, but barely puts a dent in the number of companies operating in this city.
The team then launched a crowdsourcing option, where they experimented with allowing anyone in Nairobi to add their own (and other's) businesses to Mocality, and they got paid a bounty to do so. Within the last 6 weeks they have as many listings entered as the previous 6 months. If you live in Nairobi and want to become an agent, you need a WAP-enabled cameraphone and only need to visit http://www.mocality.com/money.
That's impressive, but the impact is even more apparent when you look at the visualization: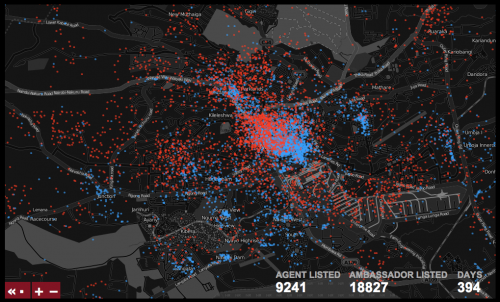 If you have a business in Nairobi, you can get your listing onto it by visiting www.mocality.com email to info@mocality.co.ke or SMS callme to 2202 from within Kenya.