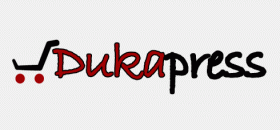 DukaPress is a new customized WordPress eCommerce platform. It allows you to easily set up a fully featured online shop which can be used to sell digital or physical goods to customers all over the world.
I've been using WordPress for many years, and am a huge fan. When I saw DukaPress last week, I was at impressed to see that it was built locally in Nairobi, but I also wondered why another eCommerce WordPress build was needed, as there are already some good ones out there such as WP-ecommerce and Shopp. So, I asked the Kelvin, from Nickel Pro, and here is his response:
I know you've probably been using WordPress even longer than I and the rest of the DukaPress team so I can probably say you know that WP-ecommerce is a bit…buggy (I say this with the highest amount of humility, we are nowhere near achieving what they have). The other free WordPress e-commerce plugins are much less usable, to us, than Wp-ecommerce.

Shopp is really really good but it sits behind a pay-wall – which is okay.

We built DukaPress to be fully featured, yet super simple to use and, well, free. It actually did not start out life as something we'd give out to the public – we built it primarily to serve our own purposes at Nickel Pro because we build a lot with WordPress and when it came to building e-commerce stuff it was always a big problem. One thing led to another and DukaPress, the plugin for public release, was born.

Around the net where WordPress e-commerce is being discussed, there is always a lot of complaints, primarily against WP ecommerce (some people call wp ecommerce a trojan for their 'for sale' upgrade), we hope that with DukaPress, people out there have a viable and better (I hope!) alternative.

Other than that, we offer features that none of the other WordPress e-commerce plugins do! As you rightly assumed, we support all three Kenyan mobile payment systems ZAP, yuCash and MPESA! Although I have to qualify that and say that integration of this is still being developed to be more fliud. We're just at version 1.0.1

How shall we make money with this? We already do, we've used it in at least 4 major projects for our client work and it has already paid for itself.

Other than that, we're currently working on version 2 which will bring full WordPress Multisites support – so that you can build your own etsy.com in 15 minutes – among other features we think are nice. At that point (in the next month or two), we may launch our own etsy.com-type service (or, in better terms, a wordpress.com which can host fully featured shops); or licence the multi-site version of DukaPress for a fee; or both. No other e-commerce plugin has "successfully" pulled off a WordPress Multisites integration to date i.e. users still cannot build a wordpress.com that can host shops without a great amount of hacking.

DukaPress is also a gateway for www.madoido.com.

I think there are certainly similar plugins which may outperform DukaPress but I also do think it probably beats some of the more established ones. I hope the larger WordPress userbase gets to prove me right, but even if they don't, DukaPress certainly makes our lives easier, and gives a really welcome international perspective to our business.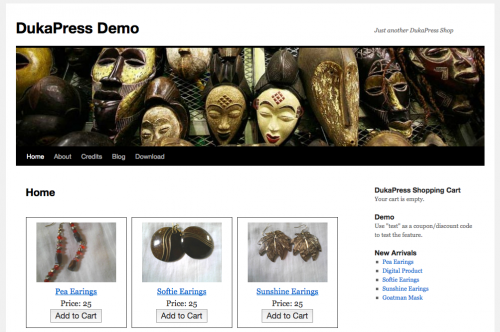 On a personal level, I'm impressed to see Kelvin and his team at Nickel Pro working on DukaPress, and I hope that they continue to make it better. If you're a WordPress pro, or in need of an eCommerce solution, check out their website, documentation and features.