Groupon has been a massive success in the US, it's a deal-of-the-day site, with projected revenue of $500m in just it's second year. It uses the framework of "collective buying", which means that if enough people sign up for the deal, then it's on. If not enough people sign up, then it's off. Revenue is shared per deal, Groupon only wins if the company doing the deal wins. Of course, this has caught the attention of savvy business people in Africa.
Rupu
Rupu is launching today. The word comes from the term "marupurupu", which is a freebie, something small handed out in the employer-to-employee relationship (could be considered a bonus). Munyutu Waigi is the business man behind the operation, and it was interesting to note that it was built out by Charles Kithika and Joshua Musau – all three members of the iHub.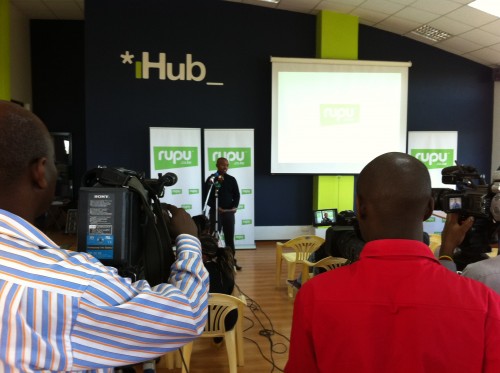 Rupu uses Jambopay, which handles local mobile payment options Mpesa and Zap, as well as Visa.
Here's their video on how it works:
Zetu
Zetu launched about a month ago and they've had a few more deals under their belt – everything from manicures to movies. "Zetu" means "our" in Swahili, and it's playing to the collective action part of the deal.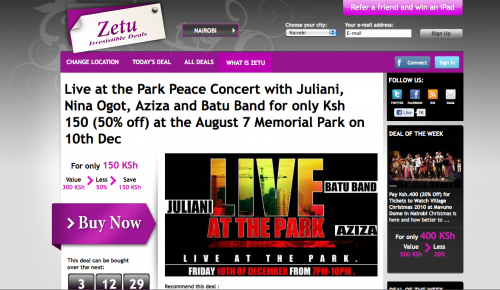 "Zetu negotiates huge discounts on popular local goods, services and cultural events. Then we offer the deals to thousands of subscribers in a free daily email. The deals are activated only when a minimum number of people agree to buy. So our subscribers get a great deal and the business gets a ton of new customers."
Zetu uses iPay, which allows you to pay via your mobile with Mpesa, Zap and Yu-Cash.
Thoughts
I'm not sure if Kenya is a big enough market for multiple services like this. I believe it will come down to which of them can get past the middle and upper class customers and get to the average-income customer. The deals are definitely within the right price range, but I'm wondering if the distribution medium works. Should there be better mobile integration?
Each of the sites are also quite new, which means that there are a few rough edges that need to be worked out over the coming months. Most of the issues stem around user interaction, and making it a very easy and friendly transaction.
Collective discount/buying sites take a lot of business-side deal making, as well as the ability to garner a lot of people to follow and push the deals that they like to their friends. Time will tell which of these companies has the business chops to keep the site going and make deals happen that bring the masses of consumers needed to make it successful.
Finally, while there's nothing wrong with copying a successful business model, the Rupu site is a little too much of direct knock off of Groupon – the colors, logo layout and site look way to close. They took the "clone" part a little to seriously… At least Zetu has a different feel to it and gets points for originality.