"Because the falam is flooded, you can drive back through South Horr, then to Baragoi then to Maralal, alafu utafika Kenya (then you'll be in Kenya)" Said a Samburu man to us in Northern Kenya.
There and Back from BRCK on Vimeo.
It seems that Northern Kenya likes me so much that it doesn't want to let me go… This time, we only got back a day and a half later than expected. It took us 7 days, and we had an amazing adventure with a host of challenges thrown our way, overcome by teamwork, courage and tenacity, with the help of old and new friends met along the way.
I wrote about our adventure along the way on the BRCK Blog, you can find the posts here:
Day 1 – A change of vehicles was in order
Day 2 – Dust and Mud
Day 3 – Night Riders
Day 4 – Setting up for the solar eclipse
Day 4 – The Hybrid Solar Eclipse
Day 5 & 6 – Many roads and no progress
Day 7 – Home again!
Instagram pictures #BRCKeclipse
Flickr pictures
Crowdmap (pictures on a map)
It used to be called the NFD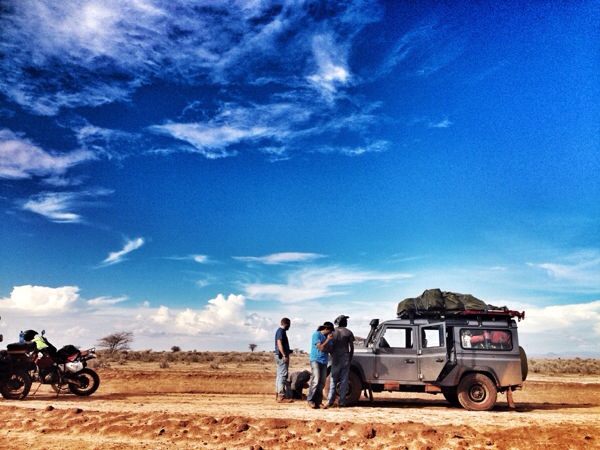 Back in colonial times, the the areas north of Isiolo were called the Northern Frontier District (NFD), a land that was part of Kenya but far enough removed to be considered the "wild west" of the country. It still is today. When you talk to people who live there, they talk about going to visit Kenya, which means that they come down country to the big population centers.
I was 17 years old when I first traveled up north, it was on a motorcycle with 8 others from my school and a backup Landcruiser. We were on our way back home when we stopped in a dusty old town called Maralal for a cup of chai and a samosa break. In walks a tall, rangy old Brit, who promptly sat down with us and started regaling us with his tales of travels. This was none other than the last of the great African explorers, Wilfred Thesiger, in his final years. He had made all of his travels via horse and camel, and thought that the combustion engine was the devil's handiwork. A few awkward moments later, us boys sidled over to our 2-wheeled combustion engines and rode off to the south.
The North of Kenya is still a land apart. It's arid and dry most of the time, while people and towns are far apart and hard to get to. Fuel and water are in short supply and high demand, and there is unrest between the different ethnic groups, as well as visiting shifta (bandits) from Ethiopia and Somalia who stir things up a bit more. There is beauty and freedom in it, but also hostility and danger.
Our trip to see the eclipse
"It is good to have an end to journey toward; but it is the journey that matters, in the end."
– Ernest Hemingway
As I mentioned in my last post, the BRCK team decided to test out our device in this environment, with the excuse of the hybrid solar eclipse as our focal event. We took 3 motorcycles and a Land Rover for this excursion on a 1900 kilometer round trip, 7-day trek to Sibiloi National Park, and back. Here's the basic route we took: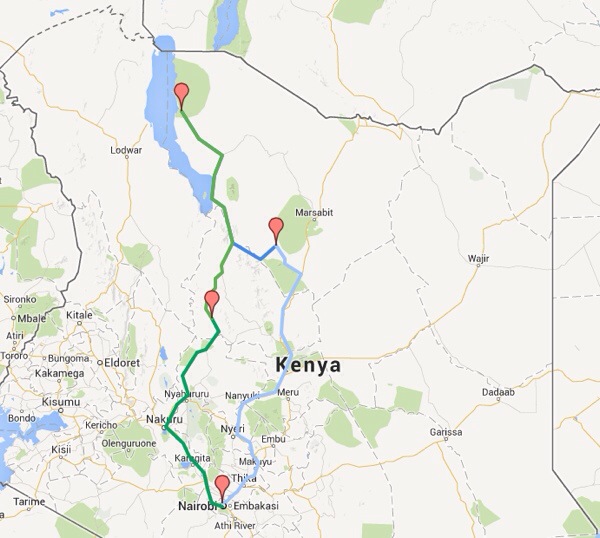 This trip was a real test for all of us. From a broken down Land Rover on day one, to night drives and dust storms that meant we couldn't see the actual eclipse, to limping into Nairobi with a flashlight replacing a headlamp and a dead alternator on the Land Rover to cap it all off.
Three Lessons I Learned
Work together. Helping each other selflessly makes for a happy bunch who can overcome almost any problem. Not just helping for one's own well-being, but simply because something needs to be done and it's good for the group as a whole.
When hands were needed to dig out the Land Rover, people stripped down to shorts and dug – for hours. I remember how hard Reg and Jon worked to unstick our vehicle, buried to the waste in mud and muck, trying to get the high-lift jack to find purchase. I remember Fady jumping on a motorcycle and learning to ride it in 5 minutes, so that he could ride the next 4 hours in the bush, in the dark, to get us all to Sibiloi. I remember Emmanuel packing, unpacking and repacking the vehicle so many times that only he knew where things were. I remember having to tell Philip to step away from the heavy equipment so that he didn't damage his hand more as he tried to assist.
Think creatively. Push harder. When you meet friction and resistance to your mission, it's easy to give up. Instead, think creatively and persevere. There's a great deal of friction in everything up north, from bogged down vehicles, to broken clutch plates, to making a special solar eclipse camera out of odd parts, to dust storms that darken out the sun.
Last night on the ride home, we had already been traveling for over 12 hours, and the headlight on my motorcycle went out. The last place that you want to be driving at night is the Naivasha to Nairobi road without a light. We pulled apart the headlight, tested all the electronics, only to find the bulb was burnt out. Instead of giving up, we found a super intensity flashlight in Fady's kit, and put it inside the bulb housing. It was like driving with your brights on at all times. This became my light, and I closely followed our car into Nairobi. You can't give up and you have to be creative.
Always get back up. Life throws some punches, everyone has them and it's a test of your character whether you let that stop you or you find a way.
Falling off a motorcycle is hard. Getting up and riding again is harder. Philip took a few tumbles this trip, especially on day two as we did a 3 hour night ride through soft sand – which is some of the most difficult stuff to deal with even in daylight. I knew we had a good leader on our team when he kept getting back up. I knew we would make it when I saw his resolve settle visibly, he relaxed his shoulders and rode on and fell no more.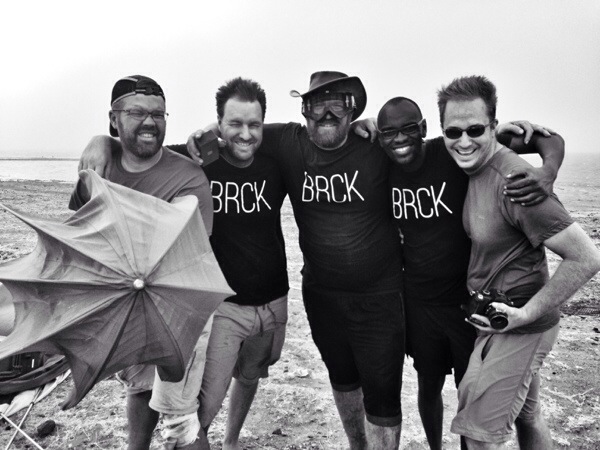 The BRCK team of Philip, Reg, Erik, Emmanuel and Jon.
Everyone has different strengths on this team, and while there are experts in specific things, when we worked together it was amazing to see the results.