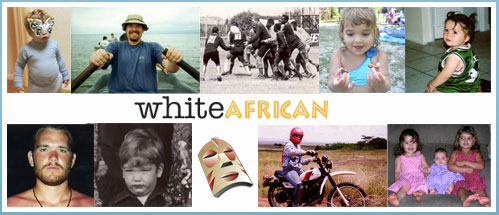 My name is Erik Hersman and I grew up in Kenya and Sudan, and currently live in Kenya. I'm happily married and have 3 beautiful little girls that keep me on my toes. I write two blogs: White African, is my personal blog where I write about high-tech mobile and web technology change in Africa. AfriGadget is a team blog I started a couple years ago, where we talk about low-tech ingenuity and microentrepreneurs in Africa.
Official Bio
Raised in Kenya and Sudan, Erik Hersman is a technologist and blogger who lives in Nairobi. He is a co-founder of Ushahidi, a free and open source platform for crowdsourcing information and visualizing data. He is the founder of AfriGadget, a multi-author site that showcases stories of African inventions and ingenuity, and an African technology blogger at WhiteAfrican.com. In 2010 he founded the iHub, Nairobi's Innovation Hub for the technology community, bringing together entrepreneurs, hackers, designers and the investment community.
Erik is a TED Senior Fellow, a PopTech Fellow and speaker and an organizer for Maker Faire Africa. You can find him on Twitter at @WhiteAfrican.
Other Miscellany
This personal blog is a place where I throw ideas out and hope that they will influence others in some small way. The African blogging community has been very welcoming and I've been particularly grateful for the Kenyan Bloggers Webring (KBW), which has a fantastic group of bloggers in it.
Interesting Factoids:
Most commented post: Schools Rugby in Kenya (yes, I went to Rift Valley Academy)
Visited by people from 1200 different cities per month
More visitors from Nairobi than anywhere else
Approximately 41% use Firefox to browse (you make me proud)
The most searched for terms that people find me by are "White African", not my name. Go figure.
I'm a web technology professional – my specialties are in:
Web Business Strategy – This is where I figure out what the long-term goals are and how to get there. I used to wear my consulting hat for this under my company Zungu. In 2008 I put Zungu on the sideline as I turned to focus on Ushahidi full-time. It's a platform, originally started in Kenya during the post-election fallout in January 2008, to gather information from the public via mobile phones and the web – especially useful during crisis situations.
Web Application Development – This is where I work with incredibly talented programmers and/or designers to create a website that "does something". I work on the user-side, on functionality, design and usability. Some recent examples:
Ushahidi – crowdsourcing, maps, mobiles and data
Pigia.me – a mobile and web classifieds listings site for Kenya
Hash
I've been writing under the pseudonym "hash" for over a while now, and have no plans of changing that. I originally wrote under that name because I didn't want people to know who I was. Then I came to the realization that I don't really care if people know who I am, but have continued it anyway.
Things I like:
web strategy, technology development in africa, application development, rugby, nba basketball, FSU, kenya, RVA, sudan, family, camping, soccer, referee, blogging, reading, strategy, philosophy, faith, friends, ethiopian food, travel, online gaming, motorcycles.
If you're looking to get in touch, it's easiest to reach me through the Ushahidi contact form.
You can also find me on:
Twitter @whiteafrican
Flickr
Vimeo
YouTube
[Image by friend and amazing photographer Jon Shuler]