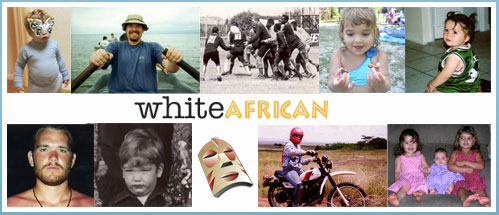 My name is Erik Hersman and I grew up in Kenya and Sudan, and currently live in Kenya. I'm happily married and have 3 beautiful little girls that keep me on my toes. White African, is my personal blog where I write about high-tech mobile and web technology change in Africa. I also started AfriGadget as a team blog a couple years ago, where we talk about low-tech ingenuity and microentrepreneurs in Africa (though I don't get to do much on it anymore and JKE has taken over editor responsibilities).
Official Bio
Erik Hersman harnesses Africa's boundless spirit of innovation by creating platforms to improve daily lives both inside and outside the continent. Hersman facilitates a host of web, mobile and community projects through organizations like the iHub, a Nairobi innovation hub for the technology community, bringing together entrepreneurs, hackers, designers and the investment community and built around the vision of an epicenter for Kenya's booming tech industry. The mobile app Ushahidi, which he co-founded, allows users to share breaking news through text messaging, and continues to revolutionize and empower journalists, watchdog groups, and everyday people around the world. He is also the founder of the BRCK, a backup generator for the internet, and is a general partner in the Savannah Fund.
Hersman, a TED Senior Fellow and PopTech Faculty Fellow, grew up in Kenya and Sudan and is, as he puts it, "one of those guys who's much more 'at home' in Africa." He keeps two influential blogs: WhiteAfrican, where he writes about technology on the African continent, and AfriGadget, a group blog that celebrates African ingenuity. He is also one of the founding organizers of Maker Faire Africa, an annual event to showcase the inventors around Africa, which happens in a different country each year (so far, Ghana, Kenya, Egypt and Nigeria).
You can find him on Twitter at @WhiteAfrican.
Other Miscellany
This personal blog is a place where I throw ideas out and hope that they will influence others in some small way. The African blogging community has been very welcoming and I've been particularly grateful to be a part of the Kenyan blogging family, which has a fantastic group of bloggers in it.
Hash
I've been writing under the pseudonym "hash" for over a while now, and have no plans of changing that. I originally wrote under that name because I didn't want people to know who I was. Then in 2006 I came to the realization that I don't really care if people know who I am, but have continued using the name anyway.
You can also find me on:
Twitter @whiteafrican
Flickr
Vimeo
YouTube
[Image by friend and amazing photographer Jon Shuler]