Benjamin Lyon started CreditSMS, a new outfit that is focused on providing an efficient an accessible platform for microfinance institutions to deliver and track loans via SMS. I've been tracking what they've been doing since they first popped on the radar two months ago. I'm intrigued by the question: can we decrease the cost for MFI's with the use of simple SMS technology?
The crux of the inefficiencies can be found in the number, distance and expense of MFI personnel to track and receive payments. Ben states it this way:
"By allowing microloan officers to receive weekly loan repayments via SMS instead of spending time and money to travel to group meetings, MFIs will spend significantly less on fuel and have more time to pursue and manage a larger loan portfolio."
This might very well be true, and I'm at least interested in seeing the experiment go forward.
A Mobile Money Transfer Directory
In the course of their research they needed to do more discovery on the possible ways to transfer funds with in Africa. This meant embarking on a study of the types of options available by every operator in every country. With that data, they decided to create the Mobile Money Transfer Directory.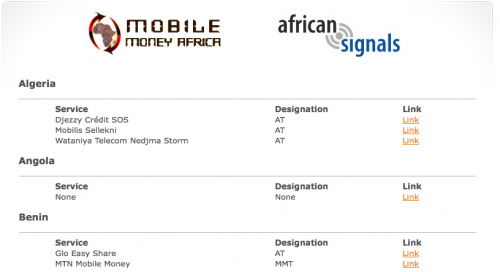 This first stage looks like its about creating a simple index of the operator, the money transfer service and a designation of the service. I can see this becoming more dynamic later, with data points like "transaction cost" and "number of merchants", along with a slew of other pieces of information needed to understand the mobile money transfer systems (and how they differ) in each African country.
[Note: African Signals, the wiki for mobile/web pricing in Africa, turned out quite useful. Ben used that as a starting point in gathering much of his information.]