I'm at SXSW in Austin, Texas in a panel that one of my friends, G. Kofi Annan is on. They're talking about the reality of the mobile web in emerging markets like Africa. Here are some notes and quotes from this session.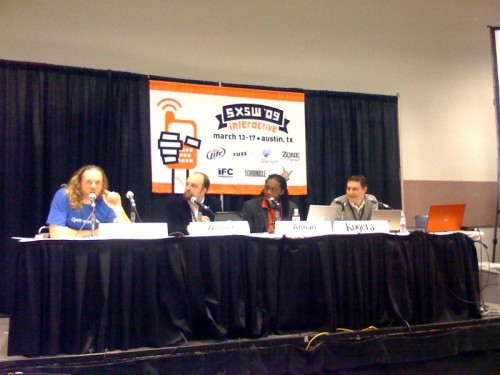 "80% of the world has mobile network coverage. It's an obvious thing to say that the mobile web should be the starting point for where we give access to the world." – Matt Womer of the W3C Mobile Web Initiative
"More people have access to a mobile phone than have access to running water. More people have access to a data enabled mobile phone than there are desktop computers in the world." – David Rogers of OMTP
What is the "Mobile Web"?
I got up and asked a question, as I'm curious as to how this panel defines the "mobile web". Is it just a web browser on your phone, or is it any type of read/write ability on data enabled phones.
The panel batted back and forth the idea that there really shouldn't be a difference between mobile and PC webs. It's really the same thing. You don't need a browser either, it's just the ability to read/write to that database of information – which is the web. (Excellent! This is what I've been thinking for a while) This was best summed up by this quote:
"The mobile web is anything you can do while you're walking along." – Charles McCathieNevile of Opera