What Africa's Entrepreneurs Can Teach the World
Ghanaian friend and TED Fellow Bright Simons does a piece for Harvard Business Review on African entrepreneurs, excess diversification and hyper-entrepreneurship. A quote:
Then there's the tendency toward what I initially saw as excess diversification. My think-tank colleagues and I were stunned to see how many concurrent businesses the typical entrepreneur owns and manages in Africa. One famous waste utility entrepreneur had about 66 different businesses. On the whole, the businesspeople we studied appeared to run an average of six businesses.
Twinpine: Nigerian Mobile Ad Network
Forbes does a piece on a startup that I hadn't heard about yet from Nigeria, Twinpine, who is setting up a successful mobile advertising network.
Re-inventing Finance
There's a good talk by Sean Park from Lift 2012 called, "Reinventing Finance: an Emerging (Digital) Reformation" where he talks about the changes in the money space, with examples of who to look out for.
Infographic: Mobile Web East Africa
Interesting numbers, quotes and data from the Mobile Web East Africa conference.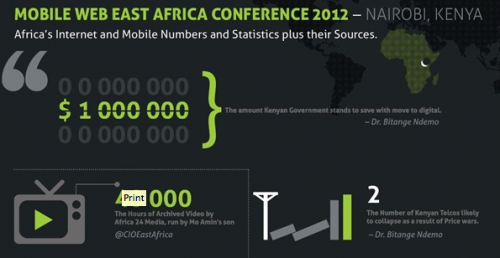 30 Brilliant Startups Across Africa
If you're looking to find some startups from many different countries across the continent, Memeburn has an article, selecting 30 companies that are doing cool, new things in tech in Africa.
African Domains
I've been having fun following a Twitter handle @AfricaDomains recently, and the Africa Domains blog is worth a read as well.
Kenya: Big vs Small
Big international firms (think IBM, Dimension Data, etc.) are beating out smaller local firms to lucrative government contracts, which makes up a significant portion of the annual tech spend in the country. The Nation opened up this debate with this article, that then went on to have a real face-to-face debate by the end of the week.
InMobi Mobile Media Consumption Research Q4 2011 – Global Results