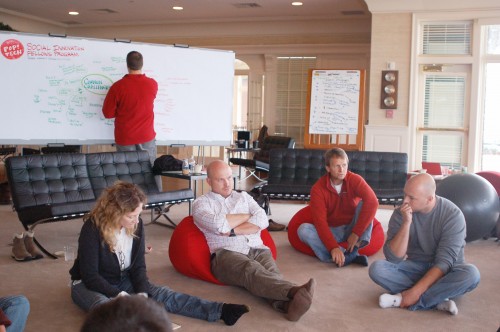 This is the third year that I've gone to Pop!Tech. I'm part of their Fellows program this year, along with Ken Banks of FrontlineSMS, as a faculty/Senior fellow member helping with the event for the incoming 2010 class. As usual it's a surprising number of interesting and intelligent people that are in the midst of changing the world.
The Fellows
One of my favorite things about the program is how we're shuttled off to a beautiful setting in the Maine woods to spend time with experts from a number of different fields. It's a time for contemplation on the reasons that you do what you do, as well a chance to gain access to experts who will help you build and evolve your organization to fit your vision.
This year, I know a number of the Fellows, making it feel like this is also a meeting of old friends.
Funnily enough, I had to come all the way to Camden, Maine in the US to hear about an innovation in Kenya. One of the Fellows is Rose Goslinga, the founder of Kilimo Salama (meaning "safe agriculture" in Swahili). She has created an innovative micro-insurance program designed for Kenyan farmers. The project is a partnership between Syngenta Foundation for Sustainable Agriculture, UAP Insurance, and telecoms operator Safaricom.
The service has been so wildly successful that Rose is missing the Fellows program due, she's still in Kenya in the midst of scaling the service nationally.