As many of you know, I'm the founder of the AfriGadget blog, and one of the organizers for Maker Faire Africa, which happened in Ghana last year and Kenya this year. Though I pretty much only build software apps and services, I've got a soft spot for hardware hacking. Last week I put an idea into the website for this month's Open Innovation Africa Summit taking place upcountry in Kenya, put on by Nokia, infoDev and Capgemini. This is that idea.
I'm enthralled by software, apps and platforms. It's the low hanging fruit with very few barriers to entry, it's the place where a great deal of innovation is happening and where money is being made. However, when we look at innovation in Africa, we often overlook the hardware – yes, the handsets, but also the other devices and accessories that local engineers (trained/untrained) can get their hands dirty with. Sometimes this is pure fabrication, other times it's hacking existing products, many times it's a mixture of both.
We're already seeing stories of the way guys are doing everything from creating their own vehicle security systems, home security systems, distance-triggered food preparation and even fish catching alerts. That's with no support at all. What happens when you provide a space to make it faster, better and possibly an avenue to manufacturers and funders?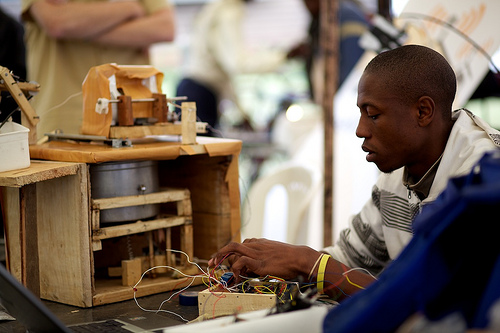 [Image above: a porridge making machine by a Malawian inventor, triggered by an SMS.]
Maker: Simon Kimani from