Timi Agama was frustrated with his experiences in trying to get information about flights in Nigeria. It just didn't make sense that there was no electronic means to track flight schedules. About five years ago he set out on a path to create a mobile solution for the problem. Out of that came Text2Fly, a mobile service that let's you search for flight schedules by sending an SMS.

"The simple task of finding the next available flight is an inefficient and labor intensive undertaking for the Nigerian business traveller. Nigerian airlines don't operate call centers and the Internet is slow. So the business traveller must assign staff to search all airline web sites or even send them to the ticketing office through stifling traffic."
How it Works
A user sends in a text message to +447786201082 with a simple command, like "From Lagos to Abuja on Monday at 8am". In response, the system gathers the information about all of the flights in Nigeria that fit your requirements, and sends them back to you as an SMS message.
As Timi states, this is " A Nigerian solution to a Nigerian problem". Interestingly, it's not only useful in Nigeria, and I could see this same application being used elsewhere, not just in Africa but in the developed world as well.
I'm curious as to why the service is only available via SMS. It seems that if you have the data, then it's easy to make it web-accessible. The advantage there is that you also can start creating ways for people to purchase tickets and thereby have another revenue stream.
The Business Behind Text2Fly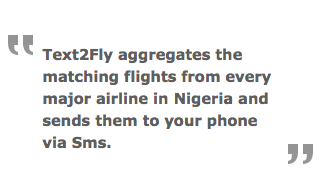 In terms of business model Text2Fly is paid for by premium SMS once it officially launches. It's free right now though, so definitely worth testing out to see how much it helps in your daily life.
User numbers are still modest because the site and backend system was only flipped on 3 weeks ago. There has been very limited marketing to this point, but there is a plan to launch a real-world and digital campaign once the service is fully tested and stable.
When I asked Timi about how local Nigerians are taking to the product, he stated:
The reactions from people who have used the service has been far better than I could have imagined. One chap I spoke to on the phone enthused about how Text2Fly is not just for busy business people but for "everybody". Another told me a story of how he showed it to some friends while they were having a drink and all 7 of them stored the Text2Fly number.
[Note: David Ajao has also done a review, worth reading as he's a fellow Nigerian.]