"If Africans are to get online en masse, they need a reason to go there. Their lives, their stories"
– Dennis Gikunda of Google Kenya, requoting Alim Walji who was at Google.org and is now at the World Bank.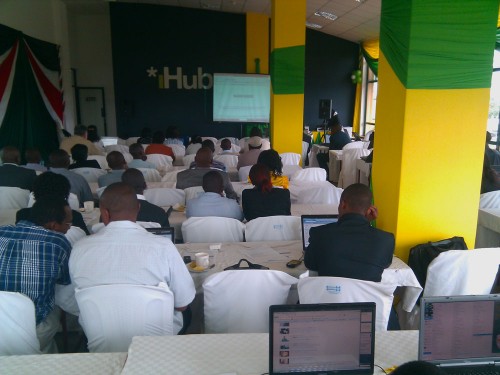 The Kenya ICT Board is throwing the Tandaa event today in Nairobi at the iHub, sponsored by Google Kenya. It's all about getting more local Kenyan content online, and it's a good mixture of speakers so far, with Dennis Gikunda starting off, giving us examples of successful local content plays.
A "remember when" session just started, talking about how slow the internet used to be just a couple short years ago. Jimmy Gitonga scolds us for not doing more with what we have, figuring out business models and ways to make money off of our fast connections. He also reminds us that 2 million Kenyans access Facebook on their phones today. Moses Kemibaro steps up to give the real numbers showing the costs of internet, and the speeds, that has happened over the last year.
Joshua Wanyama, of Pamoja Media and Africa Knows, is up to talk about "The internet at 500Mb" – how to help Kenyan companies make money online. He's giving us a short summary of his background, about how he started a web development company from the ground up in the US, then how he's brought that same mindset back to Kenya.
"If I were to go online and try to find all the dentists nearby me in Nairobi, I couldn't find it since it has not been digitized yet." – Joshua Wanyama
Josh goes on to say that we don't have enough success stories, though he does reference Ushahidi and Safaricom's Mpesa. We need more of them, as it will help get more young, smart entrepreneurs operating in the internet space. Most of the internet traffic from Africa goes to websites like Facebook, YouTube and Yahoo, all outside of Africa. What are we doing to get our own content up and make it more of a viable business alternative for our own society?
Eddie Malitt of Sega Silicon Valley is here to talk about turning Sega village, a remote village of over 10,000 inhabitants located in Ugenya district – 25 km from the Kenya- Uganda border, into a "Silicon Valley" – an African ICT hub. One of the interesting findings that Eddie shared with us is that the children are leading the training of their parents and other adults. It doesn't sound like their operations are self-sustainable, but that good things happen due to them being there.
[More of the Tandaa event will be going on today, but I'll be unable to keep up with it due to other meetings. Follow it on Twitter at #Tandaa or @TandaaKENYA. I'm sure that Moses and Mbugua will also have something up later today.]