People all over East and Southern Africa have been awaiting faster internet speeds for a LONG time. I, for one, won't miss hearing the infamous, "when the cable comes…" quote that plagues so many of our conversations. It's here. Now.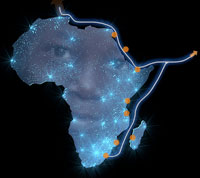 SEACOM has done a good with PR and reaching out to people via their blog and Twitter accounts. SEACOM's media team was also uploading video in real-time to their YouTube channel, so click there if you want to hear really bad audio of the speeches…

They have their new press release out here, if you're looking for the "official" talk.
SEACOM in Tweets and Blogs
(note: if I missed one, link it in the comments below and I'll add it here)
Kung Fu Baby and the SEACOM Cable Launch by Joshua Goldstein (Uganda)
"We launched Kung Fu baby and for the first time in Africa, I saw a YouTube video load completely and play in 6 seconds. We ran a speed test and showed 1.8mbps, 10x what we have in the Appfrica office."
"1.28 Terabits per second-now that's what I call digital heaven! Seacom, dare I say I love you? Now, don't make the Africans pay too much!" by @zanibots
Seacom is here but don't be surprised if nothing changes by Kachwanya (Kenya)
"Shockingly the people at Seacom think that revealing the names of their clients (ISPs) will jeopardize their relationship with others which are not yet on board. May be I am not getting something here but ISPs will only buy the bandwidth from the Seacom if they have somewhere to sell it."

"This is one small MB for my laptop, one giant TB for Africa …" by @Akianastasiou on Twitter
How fast can you read this article? by Arthur Goldstuck (South Africa)
"However, the most dramatic indication of the power of SEACOM was the quality of live video links to Kenya, Uganda, Tanzania and Mozambique. Addresses by, among other, a range of dignitaries, executives and the President of Tanzania, were carried live to large screens at simultaneous events in each of these countries."
"This is turning to be another major hoax. Why is the internet so slow as ever? Why is it Seacom not telling us which ISP's are enrolled?" by @KenyaFocus
"The President of Tanzania envisions having a "Silicon Valley" in Africa – This could have only be imagined thanks to #Seacom" by @SeacomLive
Oh Kenyans, we have been duped again by TrueKenyan
"According to the information already on the public domain, Safaricom have said that the cost of internet will reduce by upto 30-33% over the next five years. Access Kenya still remains mum since it's charges are exorbitant compared to other ISP's. Recently UUnet CEO Tom Omariba claimed that cables will only bring down costs by 20-30 percent."
In the News