At the Nokia World event in London. Keep up with it using the #NokiaWorld hashtag on Twitter and on their Nokia Blog.
"At Nokia, "connecting people" is more than a feelgood tagline." Niklas Savander, Executive Vice President Markets, Nokia.
He goes on to talk about the fact that they're the largest manufacturer hitting the largest number of people worldwide. Just as everyone has a different need, they have to create phones that offer different features, compromising on the device due to the customer needs.
Smartphones
"People bought far more Nokia smartphones than Apple and Android combined." On average, people buy 260,000 Nokia smartphones daily. Despite all of these new competitors, Symbian is still the largest with just over 40% of the smartphone market.
Symbian 3 has been rewritten to be faster, easier to use and more developer friendly. "A transition from legacy to leading edge." They plan to ship 50 million of these new Symbian 3 smartphones. Over 100 operators and distributors will be offering the N8 globally.
Another dig at Apple: "Our phones work day in, day out, no matter how you hold them."
Maps
Nokia has invested a lot in Ovi Maps, having bought Navteq a couple years ago, and going on from there. NIklas claims that they have further reach and impact than Google Maps. It's more accurate, has dedicated (correct) pedestrian routes. You also don't need to be connected to the internet to use it, without a constant mobile connection. If you do need it connected, you'll find it much less data hungry than Google Maps.
Nokia's Ovi Maps is available in 78 countries and 46 languages.
By 2013 over 800 million people will be using GPS enabled devices. Soon, everything on the internet will have a location. This is huge and will transcend the user experience as we know it today. "It's a space we intend to own."
The Nokia N8
Anssi Vanjoki, EVP, General Manager of Mobile Solutions comes on stage.
"People are buying more than hardware and software when they buy a smartphone, and Nokia is the company that built this market."
"A few critics have looked at the Nokia N8 and said that it looks like the "same old Symbian". That's like dismissing the experience of a new car because it has the same dashboard. You have to drive it to know the difference."
A broader distribution base than any other platform. He's talking to developers.
The Nokia N8 is an important milestone, because it's the first to take the new Symbian OS to the next level. It's got new hardware, and new software – a new user experience. He wants us all to give it a test drive, they've got plenty of them around the event to play with.
He talks about the N8's 12mp camera, and shows us some examples. They are amazing. It has a mechanical shutter, so the images look great. It has the largest sensor used in any phone-like device.
No other smartphone on the market can give you such a high-level experience. Anssi then shows us a trailer for Tron, with a direct cable (HDMI) onto the big screen from the phone itself. It is amazing.
A lightening fast processor and a 3d graphics accelerator. Aluminum body. Glass OLED Screen, etc.
More new phones
Different people have different needs. A new family of Symbian devices.
Introduces the Nokia C6. Has an 8mp camera, built in Ovi Maps, location sharing is made easy. It also features something new, the ClearBlack Display (CBD), a premium touch screen with a great view. "The black screen is blacker than black, as the sensors take away reflection on the glass."
The Nokia C7 is thinner, with a stainless steel body.
Social network support for Facebook and Twitter are built into the new C6 and C7. Since Nokia's customers are global, they're also supporting Renren in China, Orkut in Brazil – and other global mobile social networks. Both will start shipping in Q4 2010.
They're looking to find the "most active Facebooker" among their 1.1m Facebook Fans. They'll choose 5, and they'll win a new Nokia C6 and C7 and 20 of their closest friends.
"The Nokia E7 is BIG.", it takes over the space that the Nokia 9000 started in 1996. It's an office on the go, supporting Microsoft's suite of business software.
[Note: trying to find an image of the Nokia e7 to share with you, but their site gives me no responses for a search… crap. Bad marketing.]
Found one on Engadget: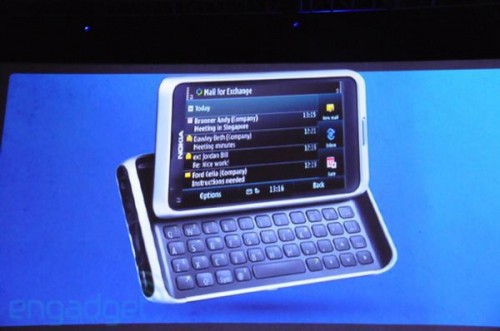 Environmentally friendly: C7 uses biopaints, C6 uses recycled metal.
Nokia Developer Community
Purnima Kochikar, VP Forum Nokia and Developer Communities
1.3 billion Nokia people. She crisscrossed the world to talk to developers (she didn't go to Africa though).
2+ million developers globally.
Simplified developer interaction and made it easier to distribute applications. "You have an improved ability to write apps that mean the most to 1.3 billion Nokia users that use payment methods that serve them best."
We believe that success isn't measure just in Dollars, Euros or Pounds, but also in the lives of people. We see this impact everyday in the apps that you have built. Our goal is to help increase the health, wealth and lives of our users, and bring them joy. Uses the example of Proxil for checking if drugs are legitimate.
Think globally and act locally. This isn't a race to the next million apps. It's about getting relevant apps to everyone around the world.
Have created a way to reach consumers via demographics, not just geographic location. For instance, have found a great desire of Indian apps in Canada.
Last year alone Nokia shipped 364 million phones with Java (s40) on them. There is a real hunger for great apps on these devices, and people are absolutely willing to pay for them.
Ex: VuClip allows you to watch videos on your mobile phone. The founder thought it would sell best on smartphones in the West. He was pleasantly surprised to find that most of his users come from the emerging markets.
"Touch and Type" SDK for s40 is available on ForumNokia.com.
The Ovi Store
175 million devices available to be sold to.
45 million touch devices
50 million potential new users with the new Symbian 3 OS phones. (C6, C7, E7, N8 models)
There are 2 simple ways to build for Nokia: native Qt SDK and the Symbian Web Runtime (web SDK).
The new standard compliant Nokia Browser. It has been updated for touch, improving consumer interaction, especially for people who will use the mobile as their primary internet device.
Available in 190 countries
Supports 120+ Nokia devices
Credit card and operator billing (choose operator billing 2/3 times… that's huge.)
Fizwoz as an example has 167 country reach due to the Ovi Store.
App distribution cost reduced on Ovi Store – application signing is free for Java and Symbian.
They have 150 people in Forum Nokia to support developers, with someone on every continent, including someone in South Africa (do they help the rest of Africa or only South Africa?).
Mikael Hed, CEO of Rovio, leader in mobile games. Creator of "Angry Birds" (which I and my daughters love) and has sold over 7 million copies and the free version has been downloaded 11 million times. A new bird, the "Mighty Eagle", is released to let you not get frustrated with a level – an in-app purchase for $1.99. (awesome new video)
The Ovi Store's in-app purchase option let's them maintain the immersive gameplay experience.
Vodafone
Vittorio Colao, Chief Executive Vodafone Group, comes on stage. "I personally believe that data is a great opportunity."
Vittorio talks about his recent holiday in Greece, and how they interact with their mobile devices now as compared to years ago. They're emailing, hiring cars, booking restaurants, mapping beaches, reading news on tablets, watching video news, getting wind forecasts by the hour, etc… They're using data seamlessly.
Life is changing in an incredible way amongst the masses. Real life.
Here's just 1 month from Vodafone Group usage of data:
1/3 browse
25% play games
20% Email
15% social networking
11% maps
30% business
Video and music fastest growing.
All people, rich or poor, north to south, will have their interactions done on the mobile. We need 5 things now to make things work better:
1. Network speeds and quality of service – the expectation, in terms of quality, is quickly rising. Pervasiveness, speed, accessibility, distribution and care. Vodafone has never cut investment in this area. The operator can provide two things: privacy and security. Data pricing and data caps have to change, he wants different levels of service.
2. Devices and operating systems – low-end smartphones, PCs, emerging market smartphones.
3. Content and services – Thinks social networking will double. Navigation will increase by 90%. Streaming music and video are already the largest of Vodafone Groups work.
"In reality, the network's main job is not voice anymore, it's handling our customer's entertainment."
A couple recommendations for devs: 1) tailor your apps to individual users – they have loads of customer information that can be tapped as an operator. 2) Operator billing is quick, intuitive and much easier to manage and will grow your usage of paid apps.
4. Customers affordability – pricing is becoming more important than features in the new segment of adopters of smartphones (emerging markets).
5. Ecosystem profitability – There has to be the right return for all the players. Pricing should be adjusted to reflect usage and load on the system. We're reaching the end of the "free" time, otherwise we'll have a free bad experience. Segmentation must drive the right device to the right demographics at the right time. There must be enough margin for developers to have a strong incentive to create locally relevant experiences for customers.