What an interesting story! It appears that a school in Western Kenya on the shores of Lake Victoria is piloting a project that give 5th graders PDA's in lieu of books. The BBC reports the story here.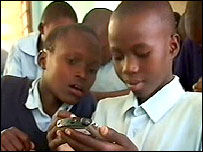 So, where do you start on a topic like this? I guess I'll first point out that I'm a gadget nut and a proponent of technology being used in Africa to help vault Africans into the Information Age. I love travelling around the country and seeing internet cafes in remote towns and areas. I'm incredibly happy about how cell phones have been used to negate the power of telephone monopolies. There's nothing quite like bypassing top-heavy and overpowered bureaucracies with quick moving efficient new tools and practices.
Anyway, the real question here is: will it work? Good question, but only time will tell. What are it's chances of working? Knowing only what I have read about the program in this article, and my knowledge of rural Kenya, Kenyans, and the Kenyan government… about a 20% chance. So, a totally unscientific and subjective opinion that you can choose to agree with or not.
[Hmm, it appears this is now being discussed at SlashDot, should get a lot more attention now.]