What if your keyboard could have any combination of lettering, hotkeys, and languages that you wanted? What about switching applications (say going from Microsoft Word to Adobe Photoshop), and having the keyboard automatically light up and change to that particular applications keys and shortcuts (hotkeys)? Ever been up late, in the darkness of your office or room trying to type or game?
Well, wish no more my friends. Here is the the amazing Optimus LED with-all-the-bells-and-whistles keyboard. Unfortunately, this little puppy is just in it's infancy – at the moment the creators of it are negotiating with manufacturers for production. One other little thing… it'll likely cost no less than $200-$300! Wow.
Imagine the improvement for typing in a foreign language like, switching from Arabic, to Chinese, to Russian if needed. Truly mindblowing in the capabilities that are possible.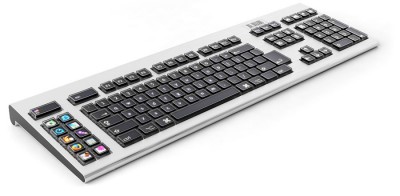 What's the big story though? I'm thinking that as the actual computer gets cheaper and cheaper, along with LCD and flat panel monitors, that other computer peripherals like the keyboard and the mouse are going to get really spiced up. We'll see what comes, but I'm already seeing new things in both these products with this keyboard and Apple's new "mighty mouse".