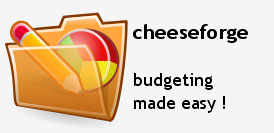 Nicholas over at Billionaire Businessman has some really exciting news. He's about to release a public version of a project called Cheeseforge – a slimmed down and manageable finance program.
Think of it as an easier, lighter, friendlier, simpler version of Quickbooks that you use within your browser (think Gmail for finances).
He's offering a 3-tier pricing structure:
A free account for 1-5 users
A small company level for 6-20 users that has a powerful analytics function and better user management
A premium service for enterprise-level use allowing an unlimited number of users that has better security, branded subdomain, and more user-options
It's great to see new web applications coming out of Africa. I'm really looking forward to testing it and will do a review once I've played around with it a little bit. I'm a big fan of the pricing structure, and I'm set to be impressed by the actual application as well.
Head on over to http://my.cheeseforge.com to sign up for more news and to get on the list to try it out.