Synthasite is the work of South African firm incuBeta. It's a web-based application that allows you to build websites without having to know much of anything about HTML. I found out about Synthasite through TechCrunch, a website devoted to tracking new web application development. I'm glad to see that they were able to get such great exposure early in their beta, since it will bring a lot of eyeballs to their site(s) and help them hone the focus of their application from the feedback they receive.
I hope to see it added to Africa 2.0 blog's list of Web 2.0 applications made by Africans (French). You'll likely see a number of familiar faces there already.
The most telling thing about the new application is best found in a comment by Vinny Lingham (the founder) on the TechCrunch blog:
Write Word documents
Build websites from scratch using a component architecture
Use templates to build websites for beginners, etc.
Integrate multiple API's for mashups (we built www.meetpersonals.com using Synthasite as well, mashing up Yahoo Maps & Personals).
Affiliate Website
Merchant Store builder
Anything else you can think of…

The important thing in building Synthasite, was building a scalable web application platform, and then building applications on top of it as we saw the market evolve. If we wanted to just build a site builder, we woudn't have bothered with the underlying AJAX architecture, but now that that's built, we feel that we've only begun to scratch the surface of opportunities for our technology – but we believe that Synthasite is probably the lowest hanging fruit at this stage, given it's ability to integrate into 3rd party webservices and make those complicated API's available to web developers in a drag and drop environment – that what's we believe our core value proposition is at this stage.
Here are some screenshots examples of websites that were built using Synthasite. As you can see, there's no end to the type of website that you can build.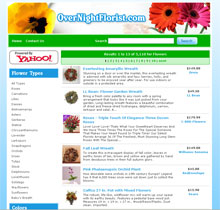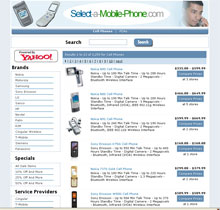 There are top-notch applications coming out of every part of the world, Africa included. Synthasite just goes to prove that the web is democratizing ideas, design and applications. I hope to see many more applications like Synthasite that you don't say, "oh, it's a good tool for Africans", but rather that "it's just a great web application and did you know that it's made by some African blokes too?".
They are in a closed beta at the moment, but will be opening the application up to an open beta (for anyone to use) in the near future. Also, let this serve as a blatant request to Vinny that I get an invite into the closed beta, I'd love to test the application. 🙂