Newzbubble is a fun news application that allows you to see which subjects have the most news about them. I've been meaning to write about it for a few weeks now, but have been sidetracked – it's a great example of web technology coming out of Africa. It's unique, fun and interesting.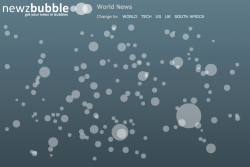 Think of it as a completely visual execution of tags. No words are necessary, until you put your mouse over a bubble. It's a fun way to interact with the news. At the top of the page, you can sort the news by the region/topic that you are interested in.
You can also get a cool little widget to put on your blog/website. What I love about this is that I think the widget will be as popular as the actual newzbubble.com site. It plays directly off of the thoughts that Om Malik mentioned in his recent Business 2.0 article on "the Widgetization of the Web". What it does is take the current page that you're on, reads the tags (words), and renders them in bubbles which are sized depending on the number of times a word appears. Go get your widget here.
Vincent Maher, the creator of Newzbubble, is one of those really smart chaps that you wish you could sit down and talk to for a couple hours.
[Note: There is a very interesting debate going on right now between a couple of my favorite African bloggers. It's over the African Digital Indaba on Blogging and is best read here and here.]