Fritz Ekwoge is the kind of African developer and entrepreneur who keeps me optimistic about Africa's future. A couple years ago he built Kerawa, a classifieds service that is doing quite well in some West African countries. Last week he got in touch with me about a new service he created called iYam.mobi, which is in alpha. (Bill Zimmerman is also covering this, as he was part of the testing for the service)
A uniquely African solution to an African problem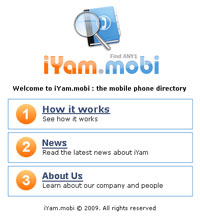 iYam is a simple mobile phone-based mobile phone directory (Fritz calls it a "mobile mobile phone directory"). It is a way to lookup businesses, service providers and contacts from your mobile phone.
That doesn't sound very exciting, and it shouldn't if you live anywhere outside of Africa. However, those of you in Africa will recognize immediately why this is such a valuable service. You see, most countries in Africa don't have a mobile phone directory for finding goods, services or individuals. There is no easy way to contact most businesses in Africa. It provides a simple, accessible solution to the problem using the ubiquitous SMS protocol.
Example uses:
Looking for computer dealers to buy your next laptop? iYam will give you their contact numbers.
Looking for software developers to help you work on your project? iYam will give you some contact numbers.
Has your phone just been stolen and you want to get back some of your old contacts ? Find their numbers using iYam.
Someone just called you but you seem to not remember who has that phone number ? iYam can tell you a lot more about the owner of that number.
iYam is ground breaking because it is a new form of search. Instead of searching for web pages, you search for people. You are only allowed to use 155 characters to describe yourself as you add yourself to the direcgtory, forcing a certain amount of constraint.
"The way we develop here in Africa will be different from the way the big nations developed. They grew up with computers. We are growing up with mobile phones.
– Fritz Ekwoge"
Business cases and investment opportunities
Most of the discussion between Fritz and I revolved around the business case for his product, and the investment money needed to make it a real business. As always, the Achilles heel for any smart, entrepreneurial programmer in Africa is how to get enough money to work on something beyond the idea and prototype phase.
Business Models
Plan A: Strike deals with local Telecom operators to charge a small extra fee for each SMS passing through our service.
Plan B: iYam only displays the first five results per SMS request. As the service gets more popular, many businesses will be eyeing for the top position. They will have to pay for that.

Advantages
Hardware requirements are modest. Currently, in it's alpha stage, iYam is powered by a laptop plus two mobile phones. These will be replaced with a bigger server and some GSM modems as traffic increases. To reduce international communication costs, the iYam setup can easily be replicated in other target countries.

Disadvantages
SMS will definitely cost a lot as the service becomes more popular. But revenue should cover those costs, or deals could be made with telecommunication companies to reduce our SMS costs.

Growth
The market in Cameroon alone is sizable, but there is no reason that once this moves from prototype to service, that it can't be replicated in other African markets.

Technical Details
Currently, it does not work with the local CDMA provider CAMTEL, because they don't exchange SMS with the GSM providers. However, it does work with other countries, as Ghana and Gabon have already been tested.
Final thoughts
As I mentioned in the beginning, I'm enthused by both Fritz and by iYam. Of the two, I'm more excited by Fritz, because it's easy to come up with ideas, and hard to execute on them. This is his second time to have done just that. This is the perfect opportunity for an early-stage investor to get involved and help scale an idea and prototype to a real product making real money.